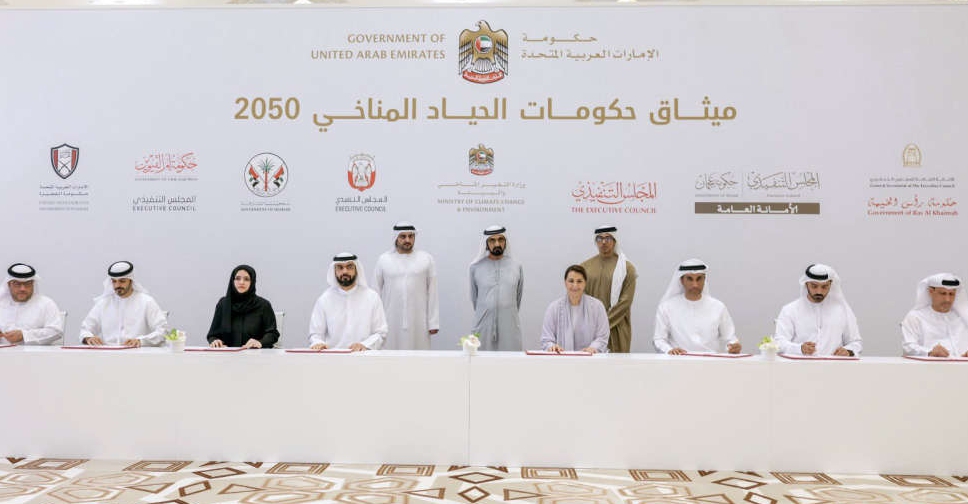 Members of the seven Emirates and the UAE Ministry of Climate Change and Environment signed the UAE Government's Net Zero 2050 Charter, with the aim to develop policies and strategies for climate action.
His Highness Sheikh Mohammed bin Rashid Al Maktoum, Vice President and Prime Minister of the UAE and Ruler of Dubai, witnessed the signing of the Charter, which aims to achieve net-zero greenhouse gas emissions by 2050 through innovative and sustainable measures.
It reflects the government's commitment to supporting climate action and consolidating efforts of all local and federal entities to reduce carbon emissions.
Mariam bint Mohammed Almheiri, UAE's Minister of Climate Change and the Environment, emphasized the need for collective efforts to tackle climate change and its effects.
"With the UAE hosting COP28 later this year and in line with the Year of Sustainability, we are adopting innovative solutions and the latest available technologies in the actual implementation of the initiative.
"With the signing of the UAE Governments Net Zero 2050 Charter, we are working hard to realise the country's goals towards achieving net zero by 2050, and we are committed to moving forward in taking the necessary measures to contribute to global climate action in order to ensure a more sustainable future," she added.
The charter's adoption comes ahead of the United Nations Climate Change Conference of the Parties, which the UAE will host later in 2023.