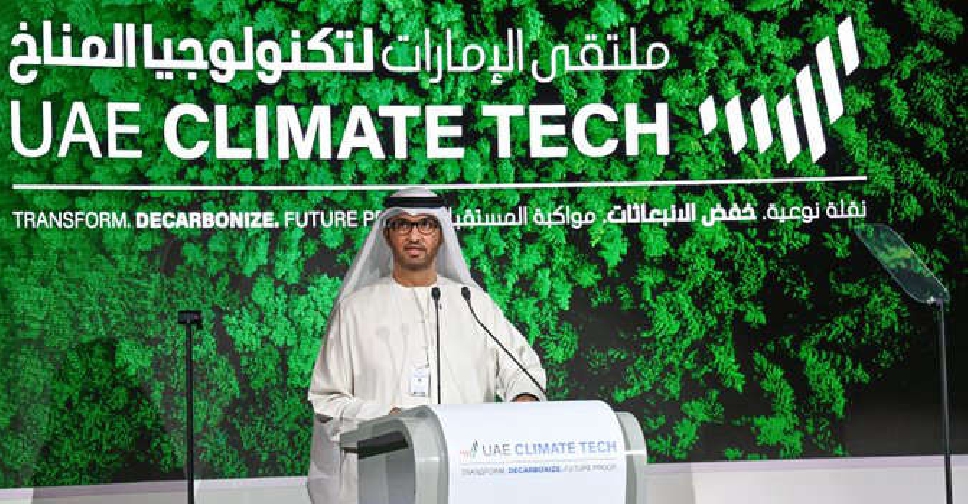 WAM
The UAE's COP28 president designate Sultan al-Jaber has said the oil and gas industry should phase out its methane emissions by 2030 and that investment in technology was needed to develop carbon alternatives.
Speaking in Abu Dhabi at the inaugural UAE Climate Tech forum, he also renewed calls for a tripling of renewable energy capacity to 11,000 gigawatts by 2030 and then doubling that again by 2040, but added that renewable energy was not the only answer to climate change.
"If we are serious about curbing industrial emissions, we need to get serious about carbon capture technologies," Sultan Al Jaber told a crowd of more than 1,000 participants drawn from technology companies, major industries, finance and government.
Al Jaber has argued since his appointment this year for a more inclusive approach to climate action that leaves no one behind, including the fossil fuel industry.
"For nearly five months and as part of our preparations for COP28, my team and I have been proactively engaging on a listening tour where I heard many voices from the global south, major economies, civil society and the business community," he said.
"What is missing is a holistic, unifying ecosystem that brings all the key players together."
معالي الدكتور سلطان بن أحمد الجابر، وزير الصناعة والتكنولوجيا المتقدمة والرئيس المعيّن لمؤتمر الأطراف #COP28 خلال #ملتقى_الإمارات_لتكنولوجيا_المناخ: نحتاج إلى إيجاد طريقة لخفض الانبعاثات وليس معدلات النمو والتقدم، ونحتاج إلى حلول تحقق نقلة نوعية والمصدر الأكثر أهمية لهذه الحلول… pic.twitter.com/4RSRTo0bwj

— وكالة أنباء الإمارات (@wamnews) May 10, 2023