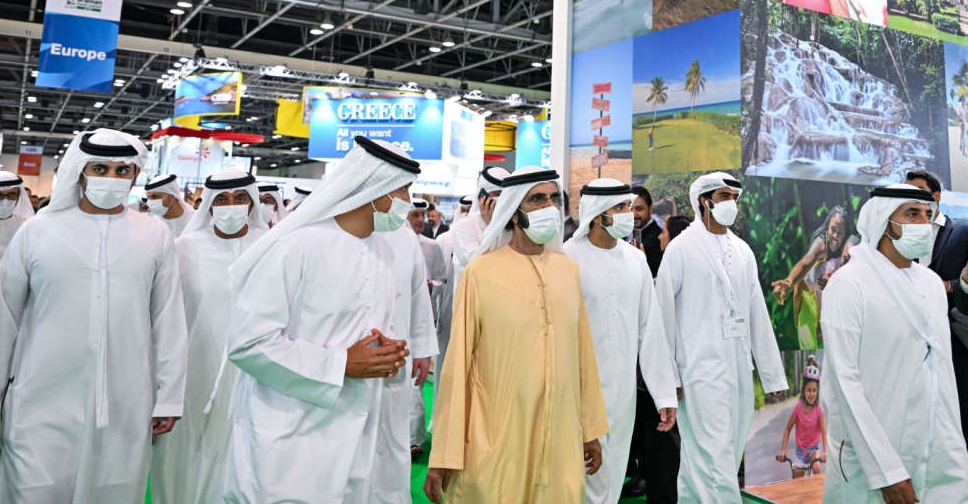 WAM
His Highness Sheikh Mohammed bin Rashid al Maktoum, the Vice President and Prime Minister of the UAE and Ruler of Dubai says the emirate is leading the world in returning to normality after the COVID-19 pandemic.
Following his tour of the Arabian Travel Market (ATM), Sheikh Mohammed tweeted that tourism is recovering, real estate is rising, investment is accelerating, exports are reaching new levels and exhibitions are returning.
He also noted this year's Travel Market has seen 1,500 exhibitors participate from 158 countries.
أثناء جولتي اليوم في سوق السفر العربي ٢٠٢٢ … والذي تشارك فيه ١٥٠٠ جهة من ١٥٨ دولة .. المعارض تعود .. السياحة تتعافى.. العقار يصعد .. الاستثمار يتسارع .. التصدير يصل لمستويات جديدة ..
الحياة تعود لدبي بحمد الله.. ودبي تقود عودة الحياة للعالم .. pic.twitter.com/rMce14PEt3

— HH Sheikh Mohammed (@HHShkMohd) May 10, 2022
During his ATM tour at Dubai World Trade Centre (DWTC), His Highness highlighted how the "UAE plays a unique role on the global stage as a country that bridges the markets of the east and the west".
"Our unique strengths place us in a good position to play an influential role in opening new horizons of growth for these sectors globally, and create fresh opportunities for the worldwide economy. We are optimistic about the future and confident of our ability to navigate challenges and keep pace with global transformations.
"Our integrated efforts backed by comprehensive strategic plans have enabled us to tide over the impact of global challenges in the last two years. Hosting the six-month Expo 2020 Dubai, the largest World Expo in the history of the event, has further reinforced Dubai's status as a hub for business, tourism and investment.
"By bringing together the global tourism and travel community in Dubai, we seek to contribute towards shaping a new future for these sectors. Dubai will continue to harness its capabilities and expertise to identify opportunities to add new value to the global economy."
His Highness toured the exhibition, which has seen an 85 per cent increase in floor space compared to the previous edition.
He also checked various pavilions and the stands of participating countries that have converged on Dubai to promote their tourism destinations.