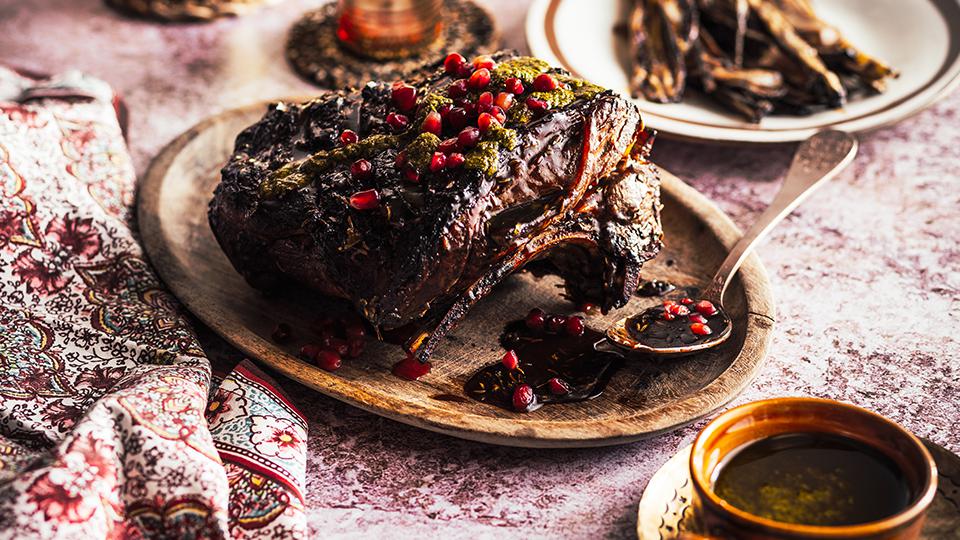 Prep time: 15 minutes (plus marination time)
Cook time: 30 minutes
Serves: 2-3

3 tbsp fresh oregano
3 tbsp SpinneysFOOD Mediterranean
Extra Virgin Olive Oil 4 tbsp
pomegranate molasses 3 tbsp
fennel seeds 1 tsp
SpinneysFOOD Fine Salt
1 tsp SpinneysFOOD Black Peppercorns
1.3kg rack of lamb
2 fennel bulbs
2 leeks

For the dill sauce

5g SpinneysFOOD
Fresh Parsley
5g SpinneysFOOD Coriander
5g SpinneysFOOD
Dill 1
garlic
2 tbsp lemon juice
2 tbsp SpinneysFOOD Mediterranean Extra Virgin Olive Oil

To serve

50g SpinneysFOOD Fresh Pomegranate Rubies

1 Preheat the oven to 220°C.
2 Mix the oregano, 2 tbsp of olive oil, pomegranate molasses and fennel seeds together with the salt and freshly ground pepper.
3 Spread half the mixture over the lamb and allow to marinate for 1 hour.
4 Slice the fennel bulbs and leeks lengthways and scatter them across the bottom of a roasting tray.
5 Drizzle with the remaining 1 tbsp of olive oil and season well.
6 Heat a frying pan to a high heat and sear the rack of lamb, fat-side down until golden brown. Turn over and cook on the other side until browned.
7 Place fat side up in the roasting tray with the fennel mixture. Roast in the preheated oven for 25-30 minutes, or until a thermometer inserted into the thickest part of the lamb registers 60°C for a medium-rare.
8 To make the dill sauce, place all the sauce ingredients in a blender and blitz until smooth.
9 Remove the lamb from the oven, baste with the remaining pomegranate mixture and cover with foil and allow to rest for 20 minutes before slicing.
10 Serve the lamb with the dill sauce and pomegranate rubies.