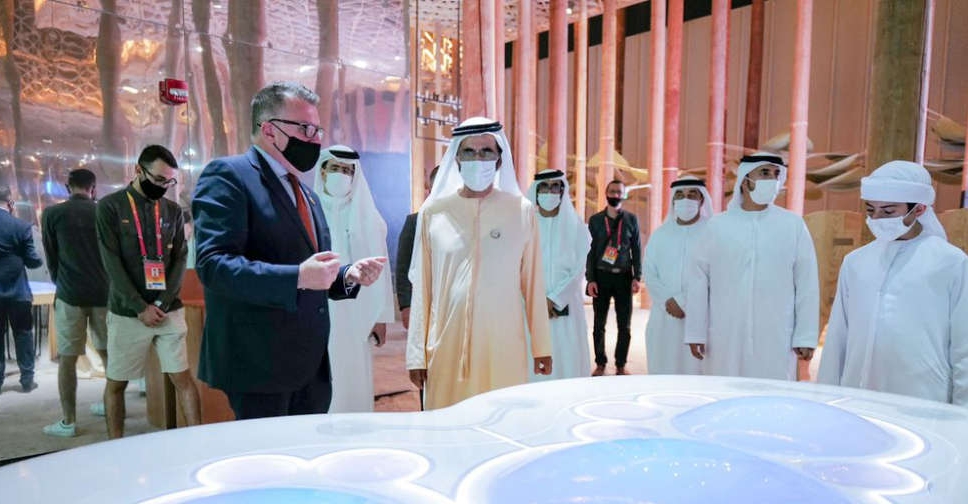 Twitter/@HHShkMohd
His Highness Sheikh Mohammed bin Rashid Al Maktoum, Vice President and Prime Minister of the UAE and Ruler of Dubai, visited Lithuania and Sweden's Expo 2020 Dubai pavilion.
He met with Prime Minister of Lithuania, Ingrida Simonetti and discussed new avenues to strengthen bilateral relations between the two countries in fields, such as technology, renewable energy, food security and life sciences.
Inside the Lithuania Pavilion, the central highlight is the 'Unseen Lithuania' exhibit, a high-definition digital tour of the country's natural beauty. The Pavilion also showcases Lithuanian cuisine and authentic handicrafts.
Sheikh Mohammed also visited the Sweden pavilion, where he learned more about Sweden's experience in building smart cities, developing the next generation of travel, innovating life sciences and developing a bio-circular economy.
The Sweden Pavilion at Expo 2020 offers an enchanting blend of these two cultures, combining a Nordic woodland-inspired experience with Middle Eastern architectural flair.
Visitors are able to explore next-generation travel systems and immerse themselves in futuristic smart cities while absorbing the authentic sounds of Sweden's rich woodlands.
Both of these pavilions are located in the Sustainability District and showcase the country's technological advances in the last couple of years.
Sheikh Mohammed took to Twitter and called the Expo 20202 Dubai a small village that has gathered the whole of humanity to create the future.
أثناء تفقد جناحي ليتوانيا والسويد في إكسبو دبي ٢٠٢٠ … تجارب العالم وإبداعاته نراها كل يوم في هذا المكان الذي جمع العالم … إكسبو دبي قرية صغيرة تجمع البشرية .. وتصنع المستقبل pic.twitter.com/nioDVwqkL1

— HH Sheikh Mohammed (@HHShkMohd) October 22, 2021