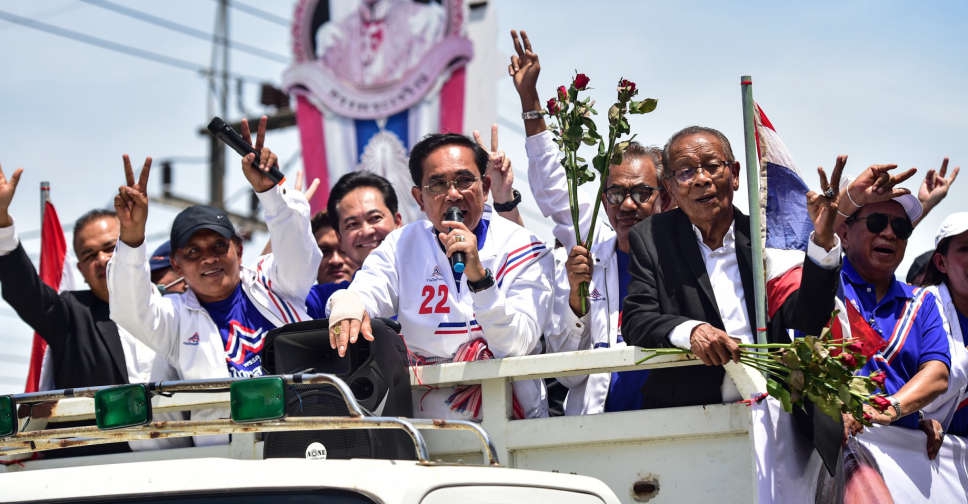 AFP
Thailand's embattled Prime Minister Prayuth Chan-ocha is lagging behind the opposition in polls ahead of Sunday's general election but electoral rules written by his former military junta mean the retired army chief can't be counted out.
Prayuth, 69, who first came to office in a 2014 coup, has survived a hotly disputed election in 2019, mass protests in 2020 and four no-confidence votes in parliament.
Now the self-styled champion of traditional Thai values of harmony and respect for the royal family is seeking another term as prime minister, even though if he wins, he'll only be allowed two years due to constitutional term limits.
"Prayuth is seen as the ultimate conservative royalist leader loyal to the monarchy and unrivalled in his patriotism," said Prajak Kongkirati, a political scientist at Bangkok's Thammasat University.
But analysts say Prayuth has a mountain to climb since he and his United Thai Nation (UTN) Party are trailing far behind the main opposition parties, Pheu Thai and Move Forward, in most opinion surveys.
Prayuth's party was the choice of just 13 per cent of voters, compared with 38 per cent for the Pheu Thai and 35 per cent for Move Forward, in a recent poll by the National Institute of Development Administration.
Nevertheless, the stern old soldier who has earned a reputation for scolding the media, was best placed to rally fractious conservative forces to hold off an opposition challenge, said Prajak.
"He is the strongest candidate for the conservatives to compete with Pheu Thai and Move Forward," he said.
The deputy leader of Prayuth's party dismissed the gloomy poll numbers saying the UTN would be a leading contender to form the next government.
"We will be the main party to form the government," Thanakorn Wangboonkongchana told Reuters. "It's a battle for the heart to determine the direction of the country."
BUILT-IN ADVANTAGE
A big reason for Prayuth's apparent confidence is that his party does not need to win a majority in the 500-seat elected House of Representatives for him to stay on.
Also voting for prime minister is the 250-seat Senate, appointed five years ago under a military government that Prayuth led after his 2014 coup.
Loyal Senate votes were crucial for Prayuth in the last election four years ago, allowing him to retain power even though Pheu Thai won the most lower house seats.
But Siripan Nogsuan Sawasdee, a political scientist at Bangkok's Chulalongkorn University, said this time it looked very difficult for Prayuth.
"His party may not get enough parliamentarians ... to lead formation of the next government coalition even with Senate support," she said.
Still, Prayuth has experience from 2019 of cobbling together a 19-party coalition and keeping the opposition at bay and there will be pressure from conservative forces for him to do it again if need be.
But that could be risky in a country with a long record of street protests against rulers unwilling to leave the scene, especially if the vote reveals a groundswell for change.
"If the government is formed against the way most people have voted, then that could lead to mass protests," said Prajak.
The prospect of the pro-military parties struggling to hold power and looming street protests would raise questions about how the military would react.
Thailand's military has staged 13 coups since the end of absolute monarchy in 1932.
Army chief Narongpan Jittkaewtae said on Thursday that the military had learned the lessons of the past and there would be no more coups. That's a promise many of his predecessors have made and failed to keep.
Prayuth has vowed no drama if the votes don't materialise on Sunday, telling a rally on Thursday he would "just go home and rest".