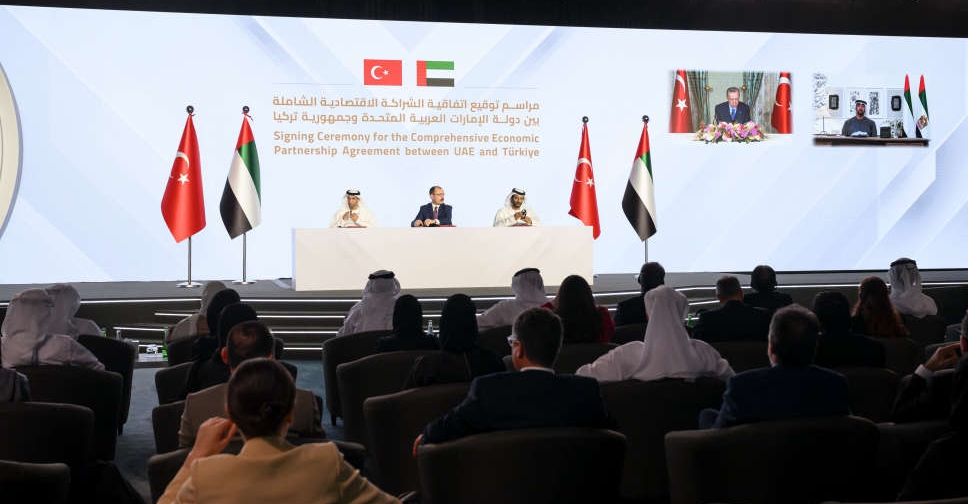 WAM
The UAE and Turkey have signed a Comprehensive Economic Partnership Agreement (CEPA).
It is aimed at stimulating trade, increasing the flow of investment and creating joint opportunities in priority sectors.
During a virtual summit, UAE President His Highness Sheikh Mohamed bin Zayed Al Nahyan and Turkish President Recep Tayyip Erdogan witnessed the signing of the agreement.
It is expected that the pact will contribute to increasing non-oil bilateral trade to $40 billion annually within five years, while also creating 25,000 new job opportunities by 2031.
Sheikh Mohamed said that the signing of the CEPA reflects the significant development witnessed in bilateral relations in recent years, as the total non-oil trade between the UAE and Turkey reached $19 billion in 2022, an increase of 40% compared to 2021 and 112% compared to 2020.
This makes Turkey the fastest-growing among the UAE's top 10 trading partners.
The signing of the Comprehensive Economic Partnership Agreement with my friend @RTErdogan strengthens the partnership between the UAE & Türkiye. #UAETürkiyeCEPA builds on our longstanding ties to deliver further growth, opportunity & stability for our countries & our people. pic.twitter.com/JTBDeJfJzs

— محمد بن زايد (@MohamedBinZayed) March 3, 2023
The latest pact aims to achieve mutual benefits for both countries and stimulate long-term, sustainable, and comprehensive economic growth by eliminating or reducing customs duties on 82% of goods and products, representing more than 93% of non-oil trade.
Additionally, the agreement improves market access to Turkey for exporters from the UAE, including major sectors such as construction, metals and their products, polymers, and other manufactured products.
UAE-Turkey relations have been supported by official visits between the leadership of both countries in recent years.
Sheikh Mohamed visited Turkey in November 2021 and Erdogan visited the UAE in February 2022.
During the first visit, the UAE announced the establishment of a $10 billion investment fund in Turkey, focusing on the logistics, energy, health, and food sectors.
During the second visit, 13 cooperation agreements were signed in several areas of mutual interest.
Earlier this year the Turkish President also participated in the 10th edition of the World Government Summit in Dubai, where he delivered a recorded speech reaffirming the depth of the relations between the two countries.