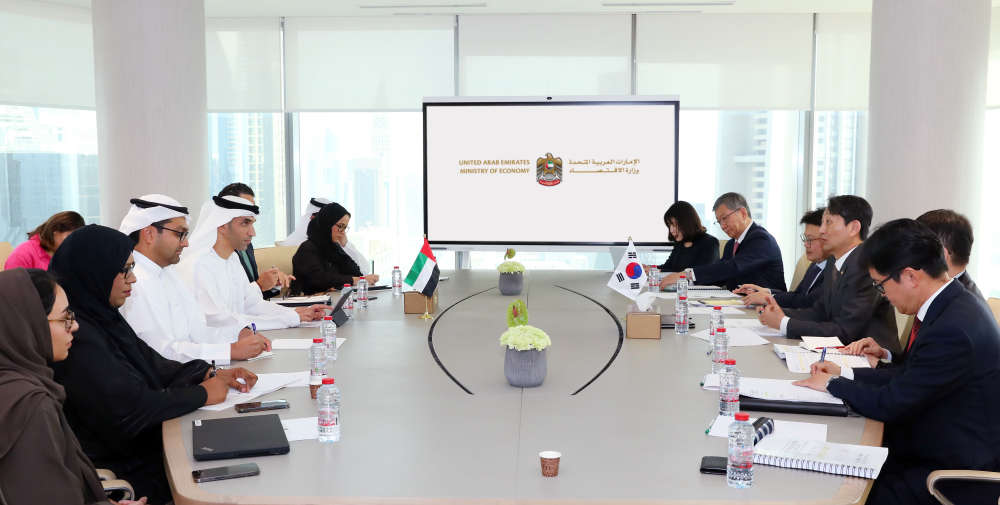 WAM
A trade delegation from South Korea visited the UAE as both sides look at expanding diplomatic and business ties.
During the talks held at the Ministry of Economy headquarters in Dubai, UAE Minister of State for Foreign Trade, Dr. Thani Al Zeyoudi, and Korean Minister of Trade, Dukgeun Ahn, agreed to enhance joint efforts to implement the recently signed MOU between both ministries.
"Today's meeting is yet another step forward in elevating our trade and investment partnership to new heights. We are keen to work closely with our partners in Korea to boost trade cooperation in various sectors that offer promising opportunities for the future," said the UAE minister.
This agreement forms part of a series of MoUs signed between the two countries in January 2023 that aims to boost trade exchanges with a special focus on the private sector.
The ministers also explored joint investment opportunities in several priority fields including trade, industry, real estate, insurance, health, technology, digital transformation and food security.
Al Zeyoudi underlined the strength and vitality of the UAE's strategic partnership with Korea and highlighted the frequent exchange of visits by high-level officials between the two countries.
"The trade and economic relations between the UAE and Korea are witnessing continuous growth. Non-oil trade between the two countries totaled nearly AED19.5 billion in 2022, up 14 per cent from 2021," highlighted Al Zeyoudi. "Also, the UAE exports to South Korea grew by 17.5 percent last year to exceed AED2.8 billion, while our re-exports to Korea totaled AED 1.3 billion."
The UAE also plans to invest nearly $30 billion in South Korea over the next few years, covering a number of important economic sectors. The Korean FDI in the UAE totaled $2.2 billion up until the beginning of 2021, reflecting a 73 per cent growth compared to the beginning of 2013. These investments are mostly concentrated in finance, insurance, mining, retail, real estate, and transportation, energy and technology sectors.