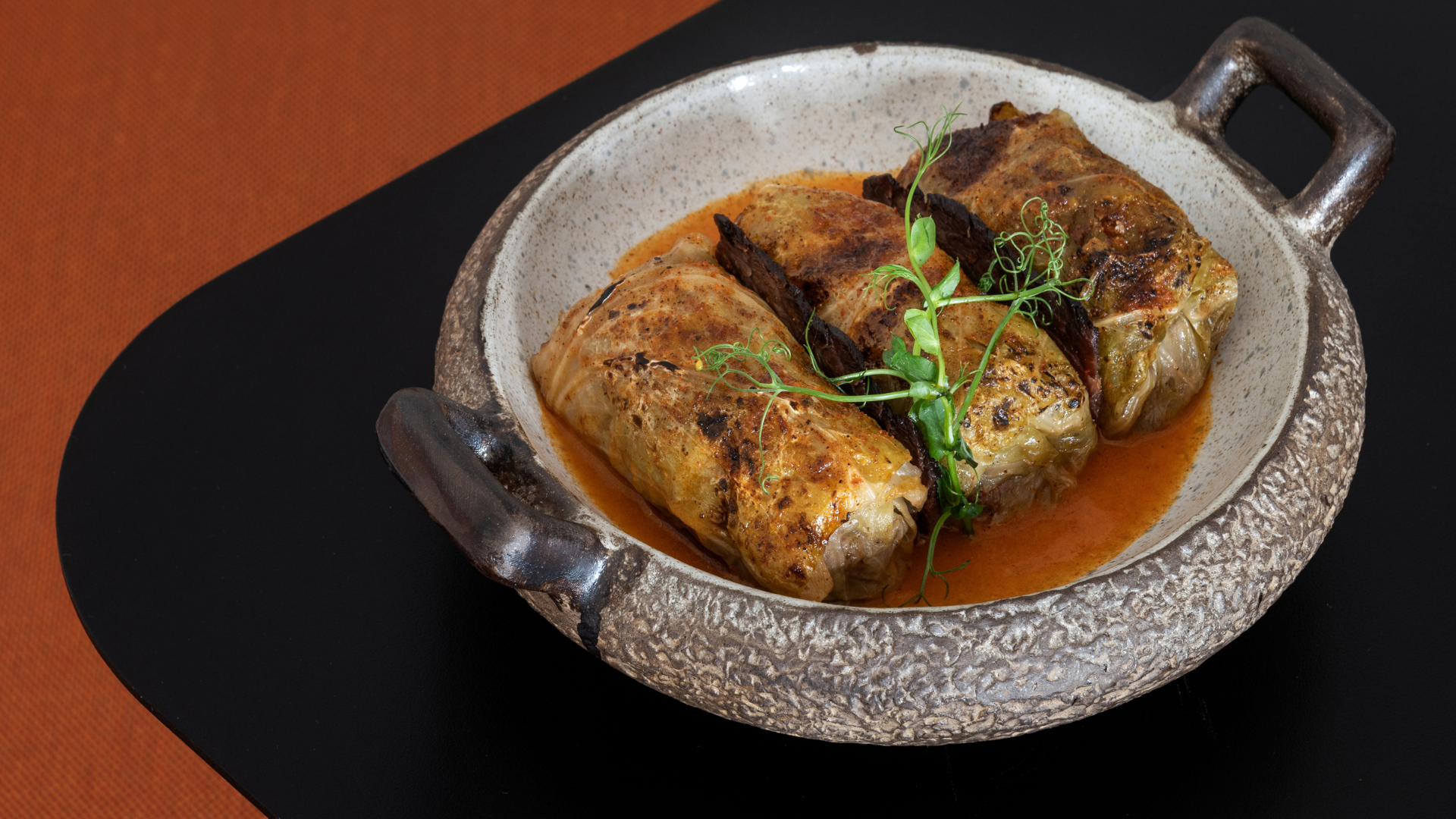 Ingredients
Sarmac:
150g Minced beef (30% fat)
70g Onion
25g Carrot
15g Celery root
10g Bacon
15g Rice Bomba
5g Garlic
3pcs Sour cabbage leaves
2pcs Beef bacon strips
30g Butter
20g Flour
Salt , black pepper, paprika powder

Polenta:
250ml Milk
50g Polenta
25g Butter
40g Kashkaval cheese
Preparation
Sarma:
Chop the onions on the finest dice brunoise , grate celery and carrot on fine, and dice
the bacon. Put it all together in a pot to sauté until onion is translucent. Finely chop the
garlic and add it to mixture , immediately following with it goes the minced beef and rice.

Season the mixture; be generous with salt as the rice will absorb most of it. Cook it on a
low heat, gradually adding a bit of vegetable stock. Once the rice is half cooked , get it
off the heat.
Spread the sour cabbage leaves and trim the thick roots - this will help you to roll them
easier.
On the root of the leave put 2 table spoons of meat mixture , fold the sides one over the
other covering the meat and roll it from bottom of the root towards the peak of the leaf.
Place sarma rolls in a shallow baking pan , adding vegetable stock just to cover ¼ of the
pan, and run some paprika powder on top of them. Bake it without the lid in 180° C for
40 minutes. Keep the liquid in the pan for preparation of the sauce later on.
Sarma Sauce:
Take the cooking liquid and add it in a white roux, making a creamy texture. Season
with paprika , salt and pepper.
Polenta:
Heat up the milk in a saucepan until it simmers, add butter and then slowly add all of
the polenta continually mixing , when the mixture is thickened, remove it from the heat, and fold in grated Kachckaval cheese.
Prepare the pan , covered with cling film on the bottom, and pour in the polenta mixture while its still hot.
Chilled the mixture in the chiller until its harden. Portion the polenta by cutting it in rectangular shape and grill it in a non-stick pan just until the sides are golden brown.