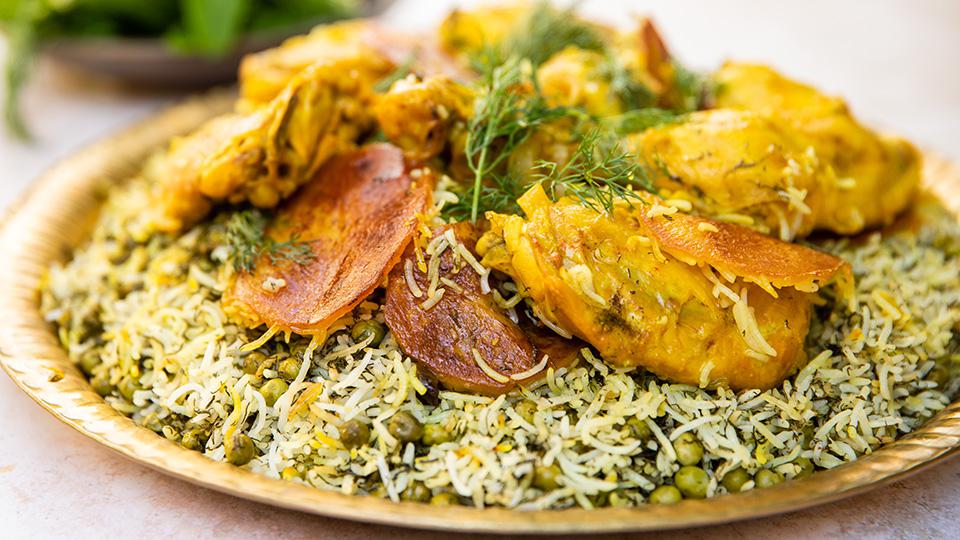 In this episode, Zahra Abdalla teaches us the art of perfect Persian rice and more!
This week food blogger and author, Zahra Abdalla, lets us into the secret behind making fluffy Persian rice with green pea and dill. In this quick variation of the more traditional broad bean and dill rice, Baghali Polo, we also learn to make the crispy layer at the bottom of the pot, also known as the 'tahdig'.
Zahra accompanies it with her favourite childhood dish, Saffron Chicken, which is both gently spiced and fragrant. Click below to find out exactly how.

INGREDIENTS

Green Pea and Dill Rice
Serve: 4–6
600g / 3 cups basmati rice

100g / 6 tbsp salt

500g frozen green peas

60g/ 4 tbsp. vegetable oil

60g/ 4 tablespoons of salted butter

2 large potatoes,
peeled and thinly sliced

3 bunch fresh dill, (finely chopped), or 1 cup dried dill

a pinch of ground saffron
Saffron Chicken
Serves 4–6
1.5kg/ 6-8 chicken leg/thigh pieces (chicken breast is also optional)

7g / 1 tsp salt

2g / 2 tsp black pepper powder

10g / 2 tsp turmeric powder

100g/ 1 large white onion, thinly sliced

10g/ 1 tsp ginger

15g / 3 garlic cloves

Pinch of finely ground saffron

2g/ 1⁄2 tsp cardamom powder


15ml / 2 tsp rose water


1 cup hot water