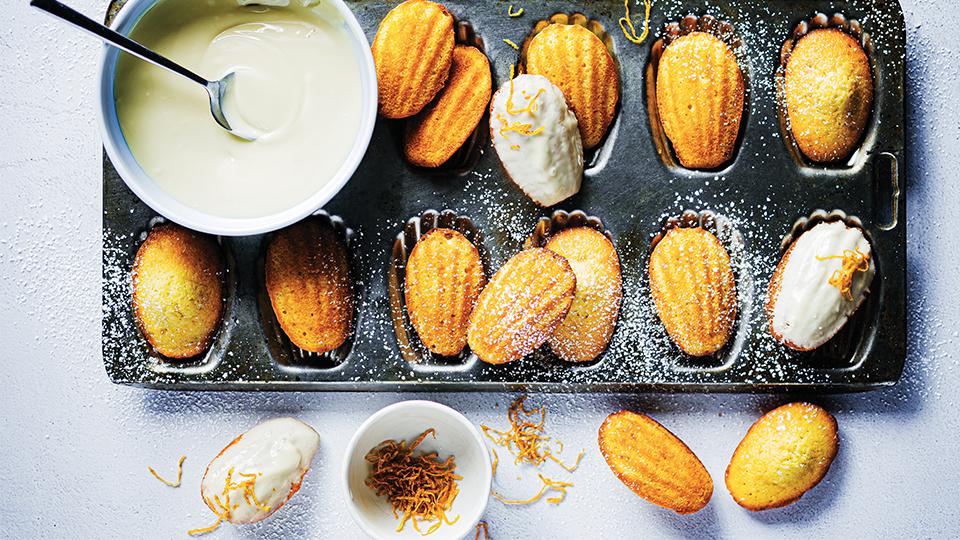 MADELEINE PAULMIER Known for its shell-like shape, the madeleine has many stories associated with its creation. According to the most popular story, France's Louis XV was so enthralled by the little cakes created by Madeleine Paulmier, a cook in his father-in-law's kitchen, that he named them after her. Meanwhile, his wife introduced them to the court in Versailles. It didn't take long for the delightful confection to gain popularity across France.
ORANGE BLOSSOM MADELEINES
Prep time: 15 minutes (plus refrigeration time)
Cook time: 8 minutes
Makes: 22
110g salted butter
1 tsp honey
2 oranges
2 large eggs
65g soft brown sugar
1 tbsp orange blossom water
100g cake flour
1 tsp baking powder
To serve
50g white chocolate
20g SpinneysFOOD Super Fine Icing Sugar
1 Melt the butter and make sure the eggs are at room temperature.
2 Combine 100g of butter with the honey and set aside.
3 Zest the oranges.
4 In a bowl, beat the eggs, soft brown sugar and half the orange zest until very pale and fluffy (ribbon stage). The mixture should leave a trail when you draw a figure 8 in the bowl.
5 Add the orange blossom water, butter and honey mixture, and mix quickly. Remove from the stand mixer.
6 Finally sift in the flour and baking powder and fold gently to form a smooth batter.
7 Place the madeleine mix in a piping bag and refrigerate for at least 2 hours – preferably overnight.
8 Preheat the oven to 200°C, gas mark 6. Generously brush the madeleine moulds with the leftover melted butter.
9 Pipe the madeleine mixture into each mould, filling it ¾ of the way, and bake for 6-8 minutes. Set aside to cool for a few minutes.
10 Spread the remaining zest out over a microwavable plate.
11 Place it in the microwave on a medium setting and heat in 30 second bursts until dried out.
12 Melt the white chocolate.
13 Dip one side of each madeleine into the melted chocolate and sprinkle over some of the dehydrated orange zest.
14 Serve warm dusted with icing sugar.