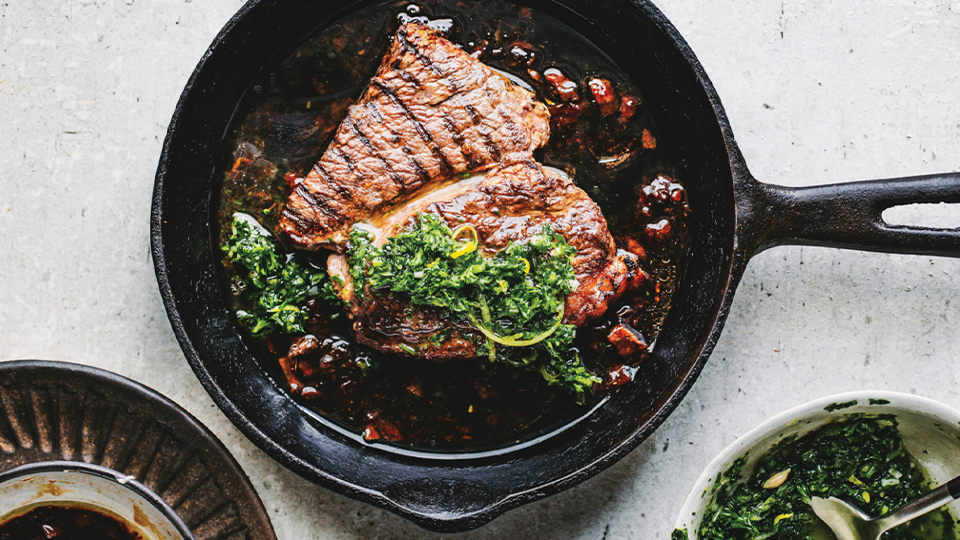 Prep time: 5 minutes (plus freezing time)
Cook time: 15 minutes
Serves: 2-4

For the oyster miso seaweed butter:
2 nori sheets
250g unsalted butter, at room temperature
1 tbsp miso paste
4 tbsp oyster sauce
1 tbsp sesame oil
1 tbsp ginger

For the steaks:
2 x 400g SpinneysFOOD Grass-Fed Beef Rib-Eye Steaks
2 tbsp SpinneysFOOD Mediterranean Extra Virgin Olive Oil
1 tsp SpinneysFOOD Sea Salt Flakes
1 tsp SpinneysFOOD Black Pepper
Steps
To make the butter, tear the nori sheets and place all ingredients in a food processor. Pulse, scraping down the sides occasionally, until well combined. Place in plastic wrap and shape into a log. Chill in the freezer for 6 hours until firm. (Leftover butter can be frozen for up to 3 months).




Remove the steaks from the fridge at least 30 minutes before cooking to bring them up to room temperature, this helps them to cook more evenly.




Prepare a barbecue to medium heat or place a frying pan over medium heat.




Rub the steaks with olive oil and season each side with salt and freshly ground pepper.




Grill or pan-fry the steaks for 6 minutes per side to get them to medium-rare. In the last 2 minutes, add 100g of the butter into the pan, basting the steaks with the butter until the steaks are ready.




Remove from the grill or pan and rest, covered in foil, for 8-10 minutes before serving.