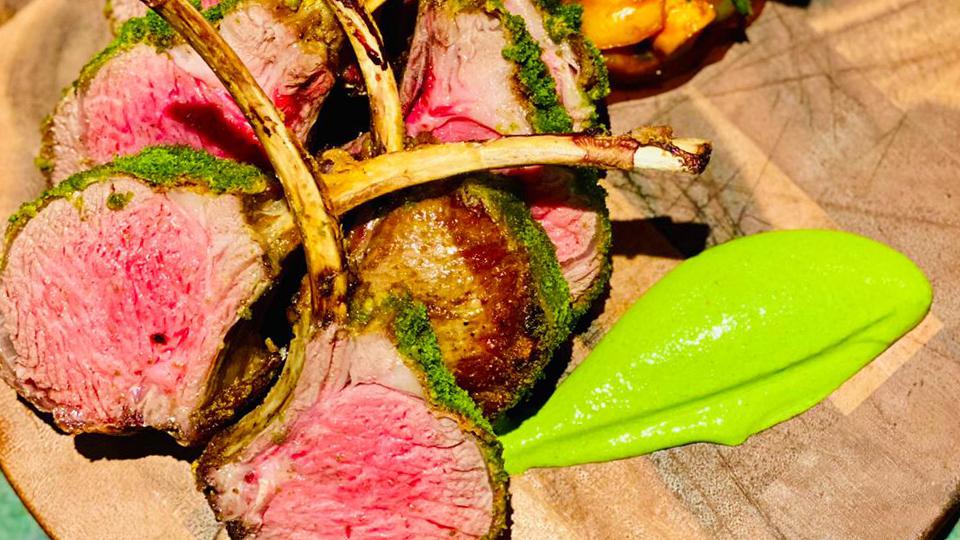 This week on Farmer's Kitchen, presented by Spinneys, we are taught how to make the perfect rack of lamb.
In this bbq themed special, we learn how to cook a wonderful green herb crusted rack of lamb with mint yoghurt sauce and ratatouille.
Food Fund International's Group Executive Chef, Praba Manickam, also explains the importance of resting the meat before serving up. Watch now to find out why!

Farmer's Kitchen Cooking Class

We are LIVE for Farmer's Kitchen Cooking Class with Spinneys! This week Chef Praba Manickam - Group Executive Chef, Food Fund International is making a Green herb crusted rack of lamb with mint yoghurt sauce and ratatouille!

Posted by Dubai Eye 103.8 News. Talk. Sport on Friday, October 2, 2020
Ingredients

For the herb crust
50g panko breadcrumbs
100g SpinneysFOOD Fresh Parsley
10g SpinneysFOOD Fresh Thyme
10g SpinneysFOOD Fresh Rosemary
50g SpinneysFOOD Fresh Mint
30g pistachios, peeled
Zest of 2 oranges
Pinch of SpinneysFOOD Fine Salt
Pinch of SpinneysFOOD Black Peppercorns, freshly ground
For the lamb
800g Australian lamb rack (French trimmed)
2 tbsp SpinneysFOOD Mediterranean Extra Virgin Olive Oil
Pinch of SpinneysFOOD Fine Salt
Pinch of SpinneyFOOD Fine Pepper
20g Dijon mustard
50g herb crust (see above)
For the ratatouille
80g courgette
40g red capsicum
40g yellow capsicum
50g aubergine
30g red onion
50ml SpinneysFOOD Mediterranean Extra Virgin Olive Oil
50g tomato paste
Pinch of SpinneysFOOD Fine Salt
Pinch of SpinneyFOOD Fine Pepper
10g SpinneysFOOD Fresh Parsley add chopped parsley at the end
For the mint yoghurt sauce
30g SpinneysFOOD Fresh Parsley
10g SpinneysFOOD Fresh Mint
3g SpinneysFOOD Fine Pepper
5g SpinneysFOOD Fine Salt
4 tsp lemon juice
5g SpinneysFOOD Fresh Basil
100g labneh