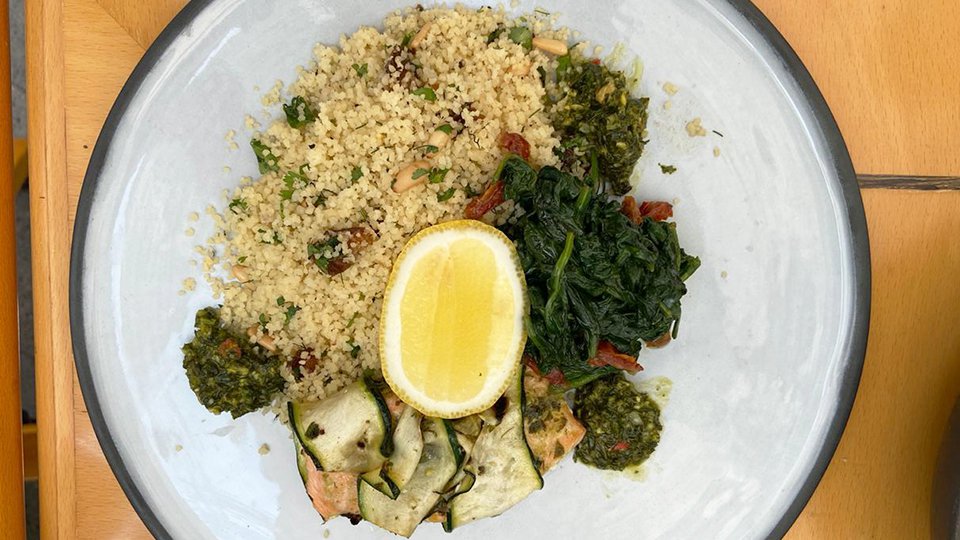 Chef Bethany Kehdy of food concept Dayma creates a special twist on a salmon fillet with the finest Spinneys ingredients.
Lebanese-American author and cook Bethany Kehdy demonstrates how to make courgette veiled salmon with nut couscous and sauteed spinach. She uses an interesting combination of Arabic flavours to spice up her dishes and believes that cooking comes from the soul.
Watch the episode below to add this to your repertoire.

Farmer's Kitchen with Spinneys

Today on the Farmer's Kitchen Cooking Class, we're live from Spinneys HQ in Meydan and firing up the BBQ as Chef Bethany Kehdy of food concept DAYMA makes courgette veiled salmon with spicy sauce, nut couscous and sauteed spinach.

Posted by Dubai Eye 103.8 News. Talk. Sport on Friday, October 9, 2020
Ingredients
For the chermoula sauce
1 handful (50g) of parsley leaves
1 handful (50g) of coriander leaves
2 tbsp (30g) finely chopped dill leaves
1 tbsp (20g) peeled and roughly chopped root ginger
1 mild red chilli, deseeded and roughly chopped
Juice of 1/2 lemon
8 garlic cloves, crushed with the blade of a knife
1⁄4 tsp ground cumin
6 tablespoons olive oil

For veiling the fish
4 fillets of salmon, about 600g in total
2 courgettes (mix yellow and green or same colour)
sea salt and freshly ground black pepper
Herb and nut couscous, spinach, sun-dried tomatoes and lemon wedges, to serve

For the Couscous
200g couscous
250ml of hot fish stock or hot water
1-2 tablespoons olive oil
zest of 1 lemon
salt and pepper to taste
40g hadrawi dates, seeded and finely chopped
25g toasted pine nuts
15g/2 tbsp chopped herbs of choice or a mix (dill, mint, parsley)

For the Spinach
30ml olive oil
500g spinach leaves
30g sun-dried tomatoes
salt and pepper to taste