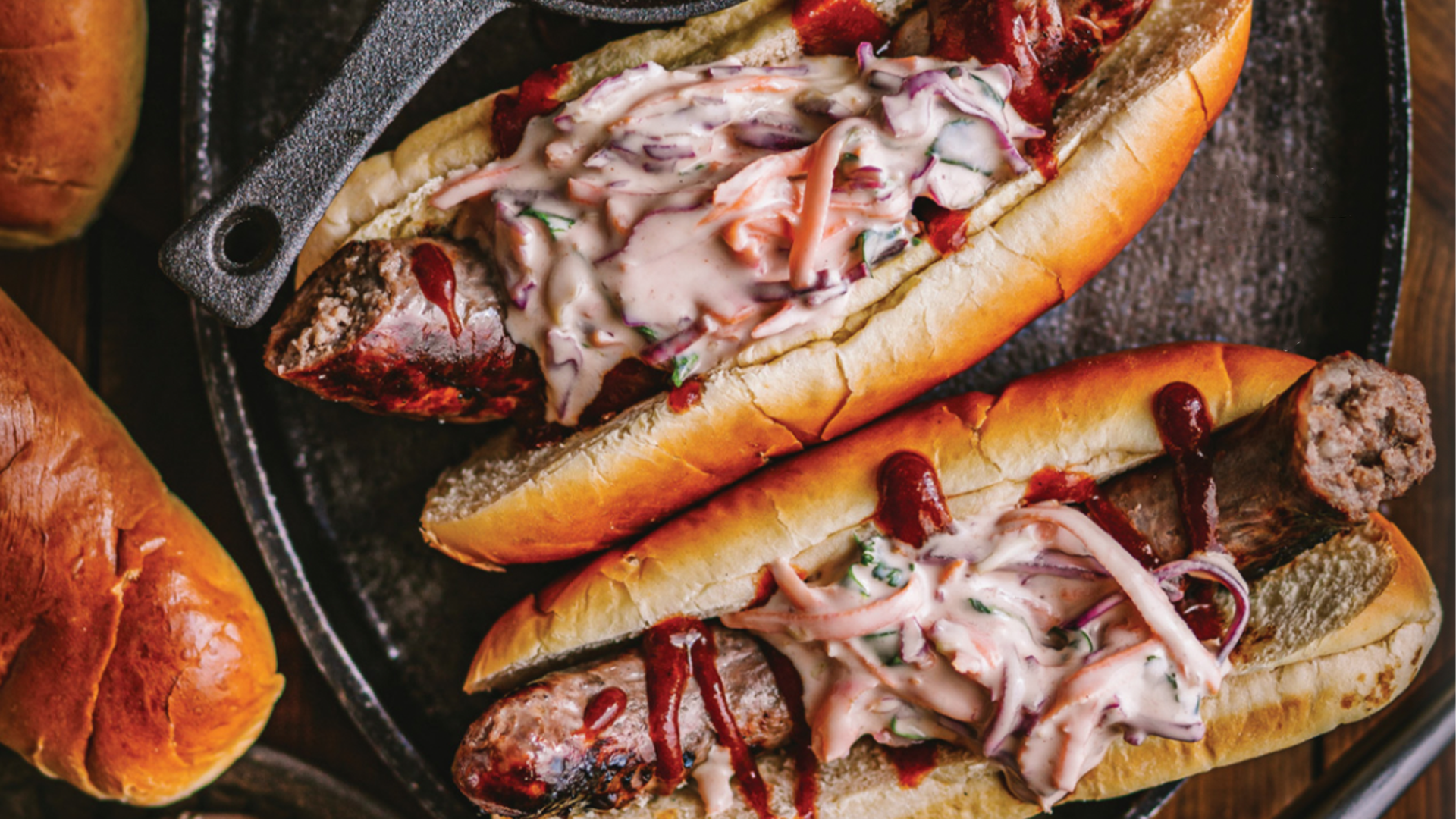 INGREDIENTS AND METHOD
Prep time: 20 minutes
Cook time: 35 minutes
Serves: 4
For the monkey gland sauce
1 medium brown onion
2 small garlic cloves
1 red chili
1 tbsp SpinneysFOOD Pure Sunflower Oil
1 x 400G Tin SpinneysFOOD Chopped Italian Tomatoes
2 tsp tomato paste
125ml Worcestershire sauce
250ml Mrs. Balls Hot Chutney
4 tbsp SpinneysFOOD Unrefined Sugar
3 tbsp white grape vinegar
For the amasi slaw
200g red and white cabbage
1 medium carrot
SpinneysFOOD salt, to taste
SpinneysFOOD Fine Black Pepper, to taste
180ml buttermilk
4 tbsp mayonnaise
1 tbsp Dijon mustard
2 tsp apple cider vinegar
2 tsp SpinneysFOOD Fine Grain White Sugar
600g boerewors
4 hot dog rolls
1.
To make the monkey gland sauce, peel and finely chop the onion. Peel and finely grate the garlic. Deseed and finely chop the chili. Heat the oil in a large pan over medium heat, then saute the onion, garlic, chili until soft. Add the rest of the sauce ingredients and simmer over low heat for 10-15 minutes, occasionally stirring until the sauce is thick and sticky.
2.
To make the slaw, finely slice the cabbage. Peel and grate the carrot. Combine all the ingredients and toss well.
3.
Prepare a barbecue to medium heat.
4.
Cook the boerewors for 4-5 minutes per side, basting with the monkey gland sauce.
5.
Slice each hotdog roll nearly all the way through and place a piece of boerewors – cut to the size of each roll – inside.

6.
Add a drizzle of monkey gland sauce and spoon the slaw over.
7.
Serve immediately