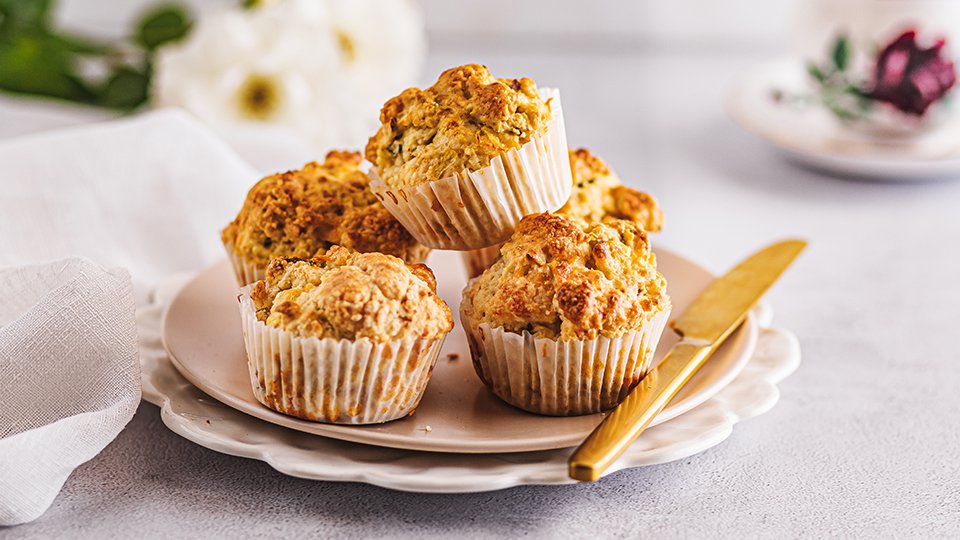 Tea pairing: BRW Society Forever Nutty
Prep time: 20 minutes
Cook time: 15 minutes
Makes: 12

Ingredients

450g SpinneysFOOD Self-Raising Flour
2 tsp baking powder
50g SpinneysFOOD Extra Fine Caster Sugar
100g salted butter, softened, cut into pieces
1 Granny Smith apple
150g SpinneysFOOD Mature Cheddar, plus extra for garnishing
5 fresh sage leaves, plus extra for garnishing
2 large eggs
210ml milk
Process
1 Preheat the oven to 220°C, gas mark 7, and line a muffin tin with cupcake liners.
2 Combine the flour, baking powder and sugar in a large bowl.
3 Cut the softened butter into pieces and rub it into the flour mix with your fingertips until the mixture resembles fine breadcrumbs.
4 Grate the apple and Cheddar, and chop the sage leaves.
5 Stir the apple, cheese and sage into the butter mixture.
6 Crack the eggs into a measuring jug, then add the milk. Make sure the total mixture measures 300ml.
7 Stir the eggs and milk into the flour – you may not need it all – and mix to a soft, sticky dough.
8 Divide the mixture between the 12 lined muffin moulds.
9 Brush the tops of the scones with a little extra milk, or any leftover egg and milk mixture.
10 Bake for 12-15 minutes, or until the scones are well risen and a pale golden colour. Lift onto a wire rack to cool.
11 Serve with BRW Society Forever Nutty tea.