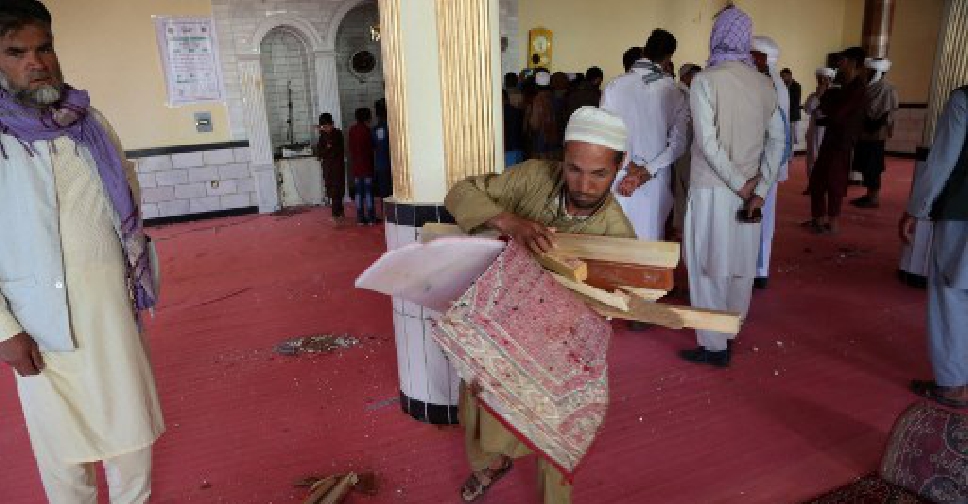 Devotees are seen inside a mosque after a bomb blast on the outskirts of Kabul on May 14, 2021, that killed at least 12 people. AFP
The UAE has strongly condemned an explosion that targeted a mosque in the Afghan capital Kabul, which left 12 people dead.
In a statement, the Ministry of Foreign Affairs and International Cooperation expressed its utter denunciation of these criminal acts and its rejection of all forms of violence and terrorism, which aim to undermine security and stability and contravene all religious and human values and principles.
The ministry also expressed its sincere condolences to the families of the victims of this heinous crime while wishing a speedy recovery to the injured.
The Taliban group, which had declared a three-day truce for the holiday, condemned the attack in a statement, and there was no immediate claim of responsibility.
Ferdous Faramarz, spokesman for the Kabul police, said the mosque's Imam was among the 12 dead and that at least 15 people were wounded in the blast at a mosque in the capital's Shakar Dara district.
The blast came less than a week after an explosion at a school killed 80 people, most of them schoolgirls.

The Taliban also denounced that attack and no one claimed responsibility.

U.S. officials believe the attack on the school may have been the work of a rival militant group.