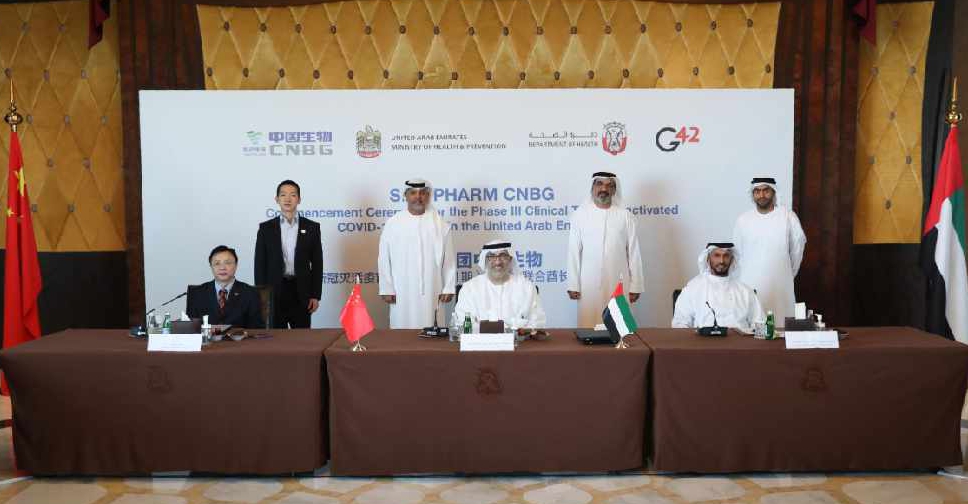 WAM
Health authorities in the UAE have announced the start of clinical trials of a coronavirus vaccine.
It's billed as the world's first phase 3 clinical trials of a COVID-19 inactivated vaccine.
The Abu Dhabi-based artificial intelligence and cloud computing firm Group 42 (G42) has signed an agreement with Sinopharm China National Biotec Group to take the plan forward.
Sinopharm CNBG'S inactivated vaccine has already passed the first two phases without showing any serious adverse reactions, with 100 per cent of the volunteers generating antibodies after two doses in 28 days.
G42 will now lead the next phase of trial operations in the UAE under the supervision of Abu Dhabi's Department of Health.
The vaccine could enter the market by the end of this year or early 2021.
Clinical trial process:
It is usually divided into three phases. The first phase mainly looks into the safety of the vaccine.
Phase 2 explores the immunization process in a limited number of individuals, while phase 3 considers the safety and effectiveness of the vaccine in a larger population sample.
If a vaccine is confirmed safe and effective throughout the entire clinical trial process, the test is considered successful, and the vaccine enters into the large-scale manufacturing phase.
The agreement was signed during a video conference ceremony held in Abu Dhabi, Beijing and Wuhan.
Commenting on the initiative, Abdul Rahman Mohammed Al Owais, the UAE's Minister of Health & Prevention said: "Now more than ever, nations need to work in close partnership between the government and private sectors to create new initiatives, launch programmes, develop policies, drive rigorous research, and develop capacity."