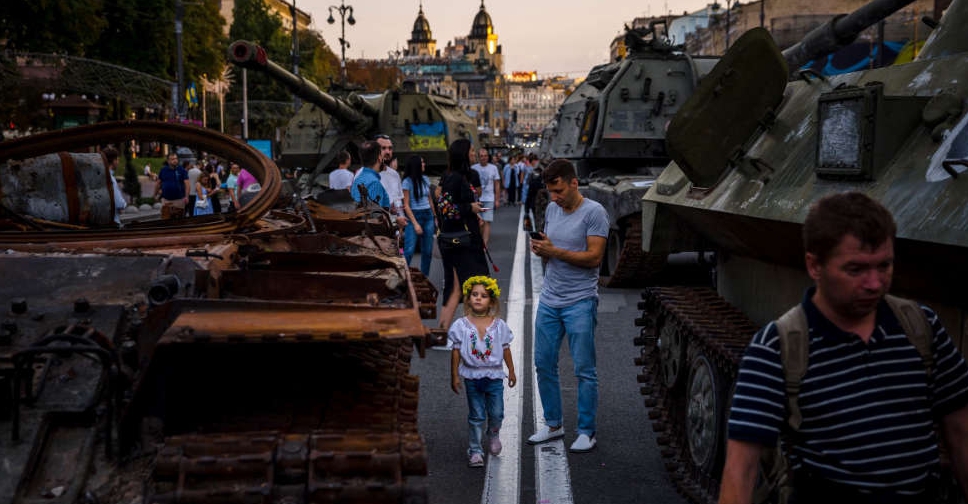 AFP
Ukrainians revelled in a surreal display of burnt-out Russian tanks and armour laid out this week as war trophies in central Kyiv to mark the 31st anniversary of independence, but fears of fresh Russian attacks lurked behind their show of defiance.
An air raid siren perforated an eerie calm in Kyiv on the morning of Wednesday's Independence Day following dire warnings that Russia could launch fresh attacks on major cities.
Kyiv has warned Moscow of a powerful response if that happens.
The public holiday, which falls six months into Russia's invasion, is usually marked with a military parade, but fearing attacks on mass rallies, Kyiv has banned public events in the city this year and the streets were much quieter than normal.
In the run-up to the state holiday, citizens had thronged the central thoroughfare, posing for photos by the carcasses of Russian tanks and eating candy floss coloured in the yellow and blue of the national flag.
They mused at the irony of the armour display months after Chechen leader Ramzan Kadyrov, an ally of President Vladimir Putin, touted plans for a Russian military parade in Kyiv - until Moscow's assault on the capital was abandoned in March.
Swathes of Ukraine are occupied and there is deep apprehension that the looming winter could be by far the worst since 1991 with natural gas and coal shortages threatening everything from electricity supplies to heating in homes.
Independence Day is one of the most important public holidays in Ukraine and has taken on hallowed significance amid what Kyiv says is a Russian imperial-style war of aggression.
Moscow casts the invasion as a special operation to demilitarise a Westward-oriented Ukraine and rid it of people it describes as nationalists, a pretext the West and Kyiv have dismissed as false.
An overwhelming majority of Ukrainians voted in support of independence from the Russia-dominated Soviet Union in a referendum in August 1991.