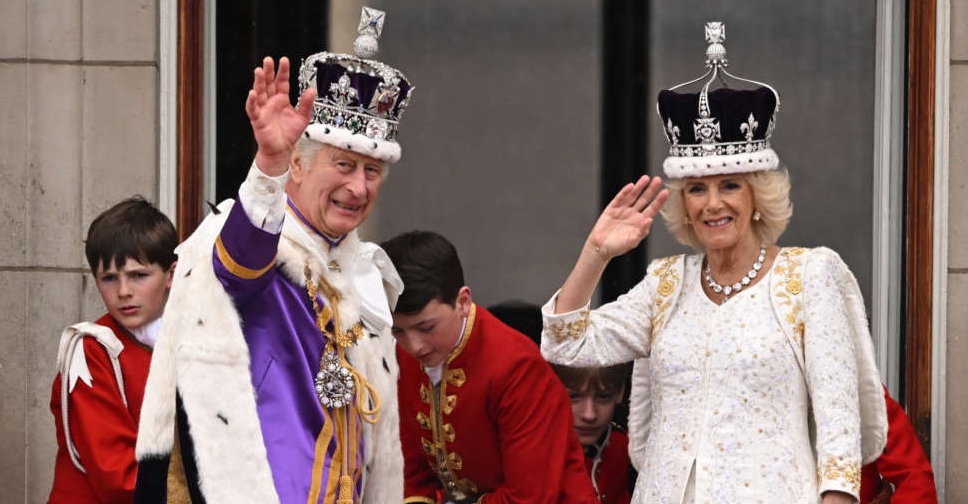 OLI SCARFF/ AFP
King Charles appeared on the balcony of Buckingham Palace with his wife Queen Camilla, heir to the throne Prince William and other senior royals but Prince Harry, the King's younger son, was absent.
Harry, whose attendance at his father's coronation was in doubt earlier this year after he detailed family rows in his memoir "Spare", had no formal role in the ceremony.
Harry had attended the Westminister Abbey ceremony earlier on Saturday without his wife Meghan and two young children, who remained in the United States. His eldest child Archie turns four on Saturday.
King Charles and Queen Camilla appeared for a second time on the balcony to cheers from the crowd of tens of thousands of people who had packed into the Mall, the grand boulevard which leads up to Buckingham Palace.
People of all ages, from Britain and across the globe, massed in rainy London on Saturday for King Charles' coronation, eager for a glimpse of the monarch and to feel a sense of history during a day filled with pomp and pageantry.
From the early hours, people dressed in red, white and blue and clutching union flags lined the streets for the first coronation in Britain for 70 years.
After the ceremony ended, Charles and Camilla made their way back to Buckingham Palace in the Gold State Coach and thousands applauded and held up phones to capture a glimpse of the newly crowned royals in the 260-year-old carriage, preceded by military bands and soldiers in red coats and bearskin fur hats.
Those gathered had different reasons to be there. Many older visitors wanted to show their support for Charles and the monarchy, others noted the beginning of a new era.
Several younger observers spoke of a desire to witness history and some wanted to join a huge party.
The newly-crowned King and Queen return to Buckingham Palace in the Gold State Coach with other members of the Royal Family, following the #Coronation Service at Westminster Abbey. pic.twitter.com/llqslnARYL

— The Royal Family (@RoyalFamily) May 6, 2023