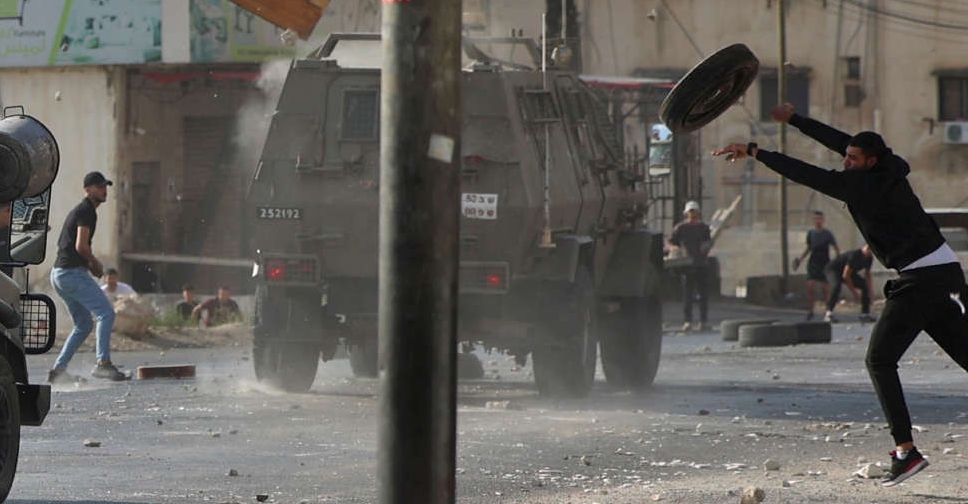 AFP
Israeli forces killed a Palestinian youth in predawn clashes in the Israeli-occupied West Bank city of Nablus on Thursday, Palestinian medics said.
At least 30 Palestinians were wounded, four of whom were shot with live ammunition and three of whom were in critical condition, the Palestine Red Crescent said.
Palestinian medics identified the man who was killed as Waseem Khalifa, 18, from Balata, the largest refugee camp in the West Bank.
Witnesses said clashes erupted when Israeli forces arrived to protect worshippers visiting Joseph's Tomb, a site that has been a flashpoint.
The Israeli military told Reuters it was checking on the incident.
According to Israeli media, armed Palestinians exchanged fire with Israeli soldiers around the site. No Israeli casualties were reported.
Last week, three Palestinian gunmen were killed in a shootout with Israeli forces in the northern city of Nablus. It was the deadliest incident in the West Bank since Israel and the Palestinian militant group Islamic Jihad ended three days of fighting in Gaza, the worst in more than a year.
At least 49 people were killed in Gaza, including civilians and children, and hundreds more were wounded during 56 hours of fighting, which also saw more than 1,000 rockets launched towards Israel by the group.
During an emergency briefing of the UN Security Council in New York on August 9, the UAE delivered a statement to discuss recent developments in the Gaza strip and the general situation in the Middle East.
Addressing the members, Ambassador Mohamed Abushahab, Deputy Permanent Representative of the UAE to the United Nations in New York, said the situation will potentially remain explosive if there is no real political will from both sides to resume negotiations and break the deadlock in the peace process.
Abushahab reiterated that the UAE is ready to support all regional and international efforts, aimed at advancing the peace process in the Middle East and achieving the two-state solution through the establishment of an independent and sovereign Palestinian state based on the borders of 1967, with East Jerusalem as its capital, in accordance with United Nations resolutions, Madrid References, and the Arab Peace Initiative.