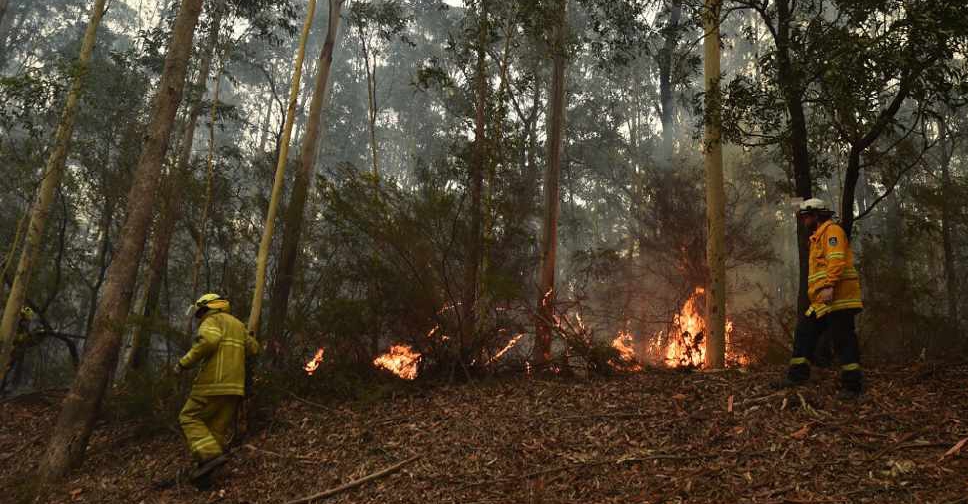 PETER PARKS / AFP
The UAE is taking further steps to help those affected by the bushfires raging across Australia.
Minister of State for International Cooperation, Reem bint Ibrahim Al Hashemy, has discussed the issue with Australia's Minister of Home Affairs, Peter Dutton.
Meanwhile, the Emirates Red Crescent is coordinating with the Australian Red Cross on raising funds and supporting people who lost their homes and livelihoods.
The two aid organisations have decided to launch an appeal across the Emirates to raise funds for the victims.
The joint appeal comes just a day after the UAE pledged to send vital expertise, equipment and manpower to help combat the bushfires.
The Acting Ambassador in the Australian Embassy in Abu Dhabi, Julie Shams, said she was humbled by the support that Australia has received in the UAE.
نتقدم بخالص الشكر والتقدير لك صاحب السمو الشيخ @MohamedBinZayed لكرمك وتضامنك مع شعب أستراليا في هذه الأوقات 🙏 #أستراليا #AusInUAE https://t.co/1KYEtUSkZS

— Heidi Venamore PSM 🇦🇺 (@AusAmbUAE) January 9, 2020
The @emiratesrc has just launched a special fundraising appeal for the #Australian bushfire efforts allowing people to fundraise in the #UAE. We are deeply appreciative of their support. Please contact @emiratesrc directly with any queries #mateshelpmates https://t.co/eTHTx7QV8u

— Heidi Venamore PSM 🇦🇺 (@AusAmbUAE) January 9, 2020
The hashtag #MatesHelpMates is gaining traction in the UAE with individuals and entities extending their support for Australia, while the Expo 2020 Dubai team has launched a touching campaign highlighting the crisis that Australia is currently facing.
The world is coming together to help Australia. #MatesHelpMates 🇦🇪🇦🇺

العالم يتحد من أجل #أستراليا pic.twitter.com/JlgFHbcDhN

— Expo 2020 Dubai (@expo2020dubai) January 9, 2020
Meanwhile, UAE astronaut Sultan AlNeyadi along with a group of Emirati professionals have visited Australia to express their solidarity with the country where they lived and studied for many years.
Overwhelmed by emotions of support and love to the country where we all studied, I and a group of other Emirati professionals visited Australia in solidarity and compassion.

The scale of destruction is palpable. But together, we stand.

— Sultan AlNeyadi (@Astro_Alneyadi) January 9, 2020
زرت بصحبة عدد من الإماراتيين أستراليا للتضامن معها، مدفوعين بعواطف المحبة والدعم للبلد الذي عشنا ودرسنا فيه لسنوات

انضموا إلينا في التعبير عن تضامننا مع أستراليا في هذه الأزمة #أستراليا #2020 #تعاضد_الأصدقاء pic.twitter.com/D4sjEu7Trv

— Sultan AlNeyadi (@Astro_Alneyadi) January 9, 2020