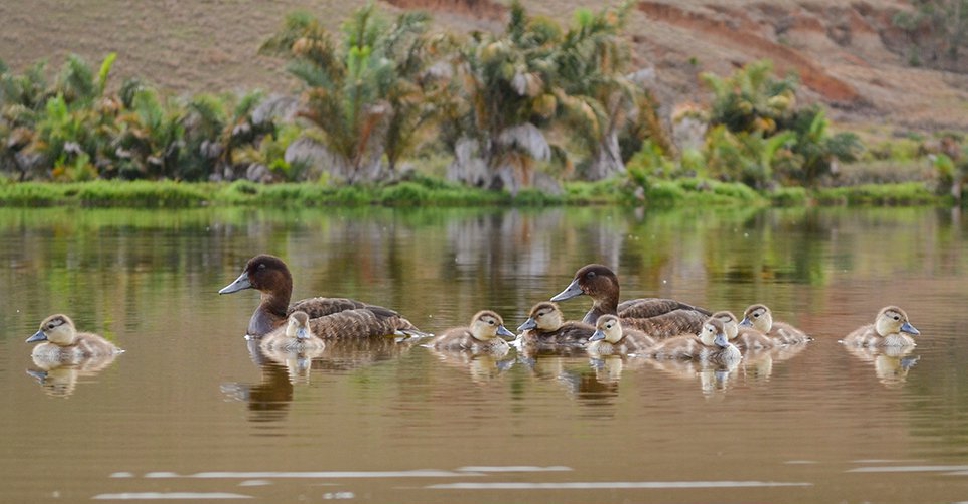 WAM
The world's rarest duck has been saved from the brink of extinction, thanks to a major conservation effort backed by the UAE.
The Madagascar pochard is getting a new lease of life with support from the Mohamed bin Zayed Species Conservation Fund.
As many as 12 ducklings have been sighted at the remote Lake Sofia, in northern Madagascar, following extensive efforts to reintroduce the species into the wild.
They were thought to be extinct until as recently as 2006 when a few ducks were discovered in the area.
Some were taken into captivity in 2009 for a breeding programme and 21 young captive-bred pochards were then released in December 2018.
Scientists have been amazed by the recent discovery of two broods of ducklings since diving ducks like pochards normally breed for the first time at two years old.
The UK-based Wildfowl and Wetlands Trust (WWT) and the Jersey-based Durrell Wildlife Conservation Trust has been managing the project in partnership with the Aga Khan Foundation and Madagascar's Ministry of the Environment.
"Our grant programme is focused on conservation projects devoted to the saving of individual species. With the Madagascar pochard being the rarest duck in the world, it was an obvious choice for us to support this project," said Razan Al Mubarak, Managing Director of the Mohamed bin Zayed Species Conservation Fund.
A monitoring team, who have been based at the lake for the last twelve months to carefully track the pochards that were released in December 2018, will now continue to observe the ducklings.