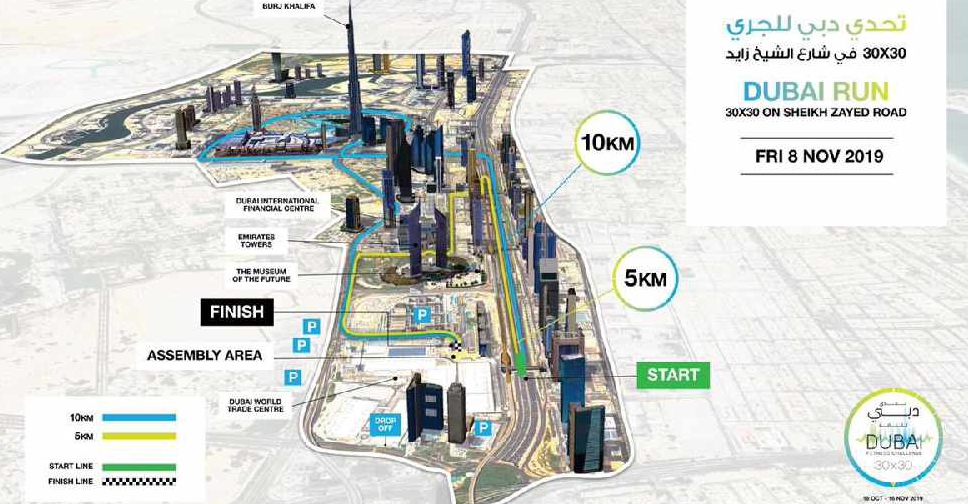 Supplied
A section of Sheikh Zayed Road will be closed for traffic this Friday morning as it turns into a running track for the Dubai Fitness Challenge.
Organisers of the Dubai Run 30x30 have told Dubai Eye 103.8's The Agenda that the area between Dubai World Trade Centre (DWTC) and the Burj Khalifa exits will be closed from 6:00 am as residents jog on the iconic road.
Happiness Street will also be closed for traffic.
Sarah Salman, PR and Communications Manager at Dubai Tourism, explains more about the routes.
The historic Dubai Run will take place on Sheikh Zayed Road on 8 November!
Both the 5km and 10km runs will start from Dubai World Trade Centre (DWTC) where all runners will head towards SZR. Route Map below 👇#Dubai30x30 pic.twitter.com/jQL60NTvU3

— DXB Fit Challenge (@DXBFitChallenge) November 4, 2019
It's a free-to-attend event, giving you a unique, on-foot perspective of iconic buildings that you may normally miss.
The 5km fun run is open to people of all ages and abilities – also accommodating strollers and wheelchairs, while the 10km run is for participants who are 18 years of age or older.
Online registration is essential prior to the event for all attendees aged eight and above.