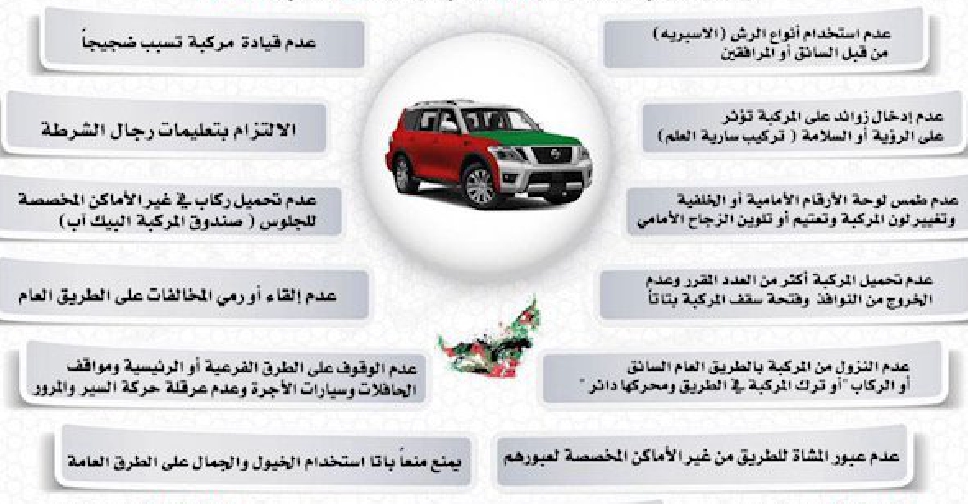 Instagram/adpolicehq
UAE motorists may face consequences if they are planning to decorate their vehicles for the country's 48th National Day.  
Police forces across the country have announced that residents can only decorate their cars from November 25 to December 6.

Authorities have also warned the public to refrain from engaging in a number of activities.

Violations could result in the confiscation of the vehicle, a AED 2,000 fine and 12 traffic points.

Dos and Don'ts
- Motorists cannot hold any car rallies on their own. To participate in the official National Day rally, residents are required to obtain a permit from the Directorate of Traffic and Patrols. A strict emphasis is placed on following traffic rules during the rally, and to follow the speed limit.
- Motorists can place the UAE flag on any part of the vehicle, provided it does not endanger the safety of the driver or passengers. It is permissible to place stickers on the sides of the vehicle.
- Stickers cannot be placed on the license plate, the number of passengers should not exceed the prescribed number.
- Passengers are not allowed to stand on the roof of the vehicle or be hang outside passenger windows.
- It is not allowed to perform stunts on the road and disrupt traffic.
- Car owners should not change the colour of their vehicles, and must not cover license plates. It is also not allowed to spray cans of Silly String or snow foam on public property.