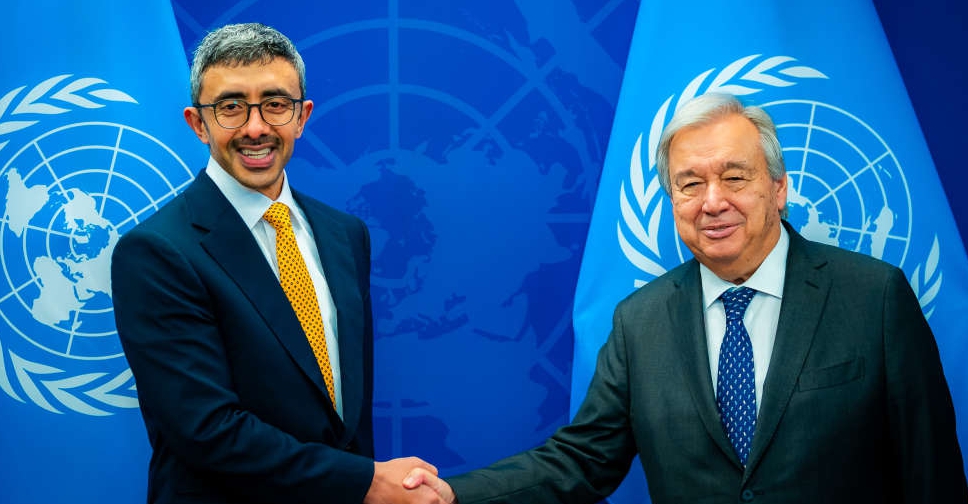 UAE's Minister of Foreign Affairs Sheikh Abdullah bin Zayed Al Nahyan and UN Secretary-General António Guterres discussed partnerships across various areas including humanitarian work, renewable energy, climate action and sustainable development.
They met on the sidelines of the 78th Session of the UN General Assembly in New York.
Sheikh Abdullah and the UN chief also reviewed the outcomes of the UAE's membership in the UN Security Council during 2022-2023, its major contributions to multilateral work aimed at achieving international peace and security, as well as its rapid humanitarian response, and its leading efforts and initiatives to tackle various global challenges, including climate change.
The two sides further discussed the UAE's preparations to host COP 28 in November, with Sheikh Abdullah affirming the need to accelerate global response to climate change.
He added that the UAE is looking forward to collaborating with the UN and the world to transform climate challenges into opportunities to drive sustainable and economic development, securing the future of generations to come.
They also discussed developments in the Middle East, and exchanged views on a number of regional and global issues, as well as challenges impeding international peace and security.
The UAE foreign minister highlighted the UAE's firm commitment to working with the UN to enhance security and stability globally, support efforts to find peaceful solutions to conflicts, and direct focus towards efforts to accelerate comprehensive sustainable development for all.