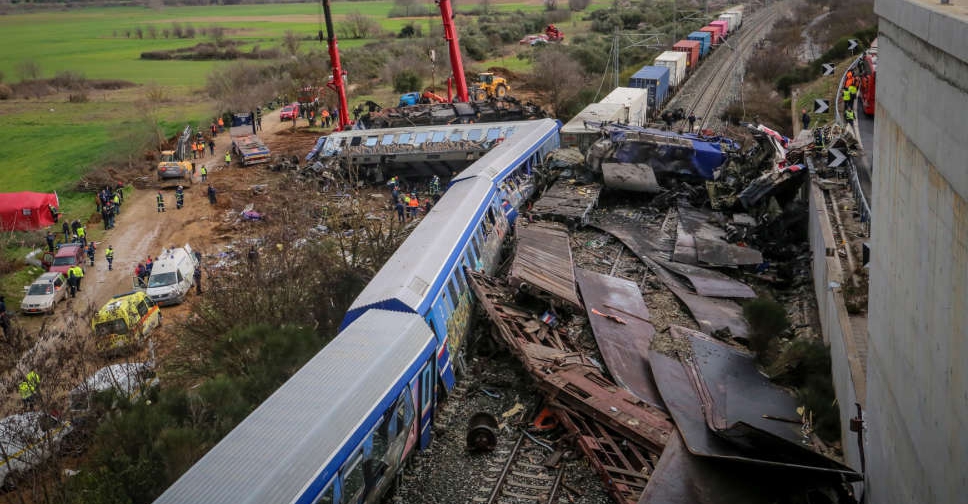 A passenger train and a cargo train collided head-on in Greece on Tuesday night, killing at least 36 people and injuring 85 as the country's deadliest rail crash in decades threw entire carriages off the tracks.
Sixty-six of those injured were hospitalised, six of whom are in intensive care, a fire official said.
The crash occurred as the passenger train emerged from a tunnel. Derailed carriages, badly damaged with broken windows and thick plumes of smoke, could be seen on the site, where rescuers were looking for more survivors.
One passenger carriage stood on its side at almost ninety degrees from the rest of the wrecked train, with other derailed carriages tilting precariously.
Stergios Minenis, a 28-year-old passenger who jumped to safety from the wreckage, said the crash was "nightmarish" with a loud bang followed by fire.
About 250 passengers out of a total of 350 were evacuated safely to Thessaloniki on buses.
"Our priority now is treating the injured, searching and finding missing people in the debris and offering psychological support to the relatives of the victims by psychologists who are heading to the Larissa city," government spokesman Giannis Oikonomou said.
One passenger told state broadcaster ERT that he escaped after breaking the train window with his suitcase.
The two trains had been on the same track when they crashed into each other.
There is an ongoing investigation by a prosecutor and police into what caused the accident, a Hellenic Train official told Reuters on condition of anonymity.
Police temporarily detained the station master in Larissa and had summoned witnesses for questioning, ERT said.
Hellenic Train in a statement expressed "its deep sorrow for the tragic accident".
Overnight, rescue workers were seen carrying torches in carriages looking for trapped passengers.
"The evacuation of passengers is under way in very difficult conditions given the severity of the collision of the two trains," fire brigade spokesperson Vassilis Varthakogiannis said.
Local media said the train left Athens around 7:30 pm (0530 GMT). The fire brigade said it was informed of the accident shortly before midnight. The cargo train had been travelling from Thessaloniki to Larissa.