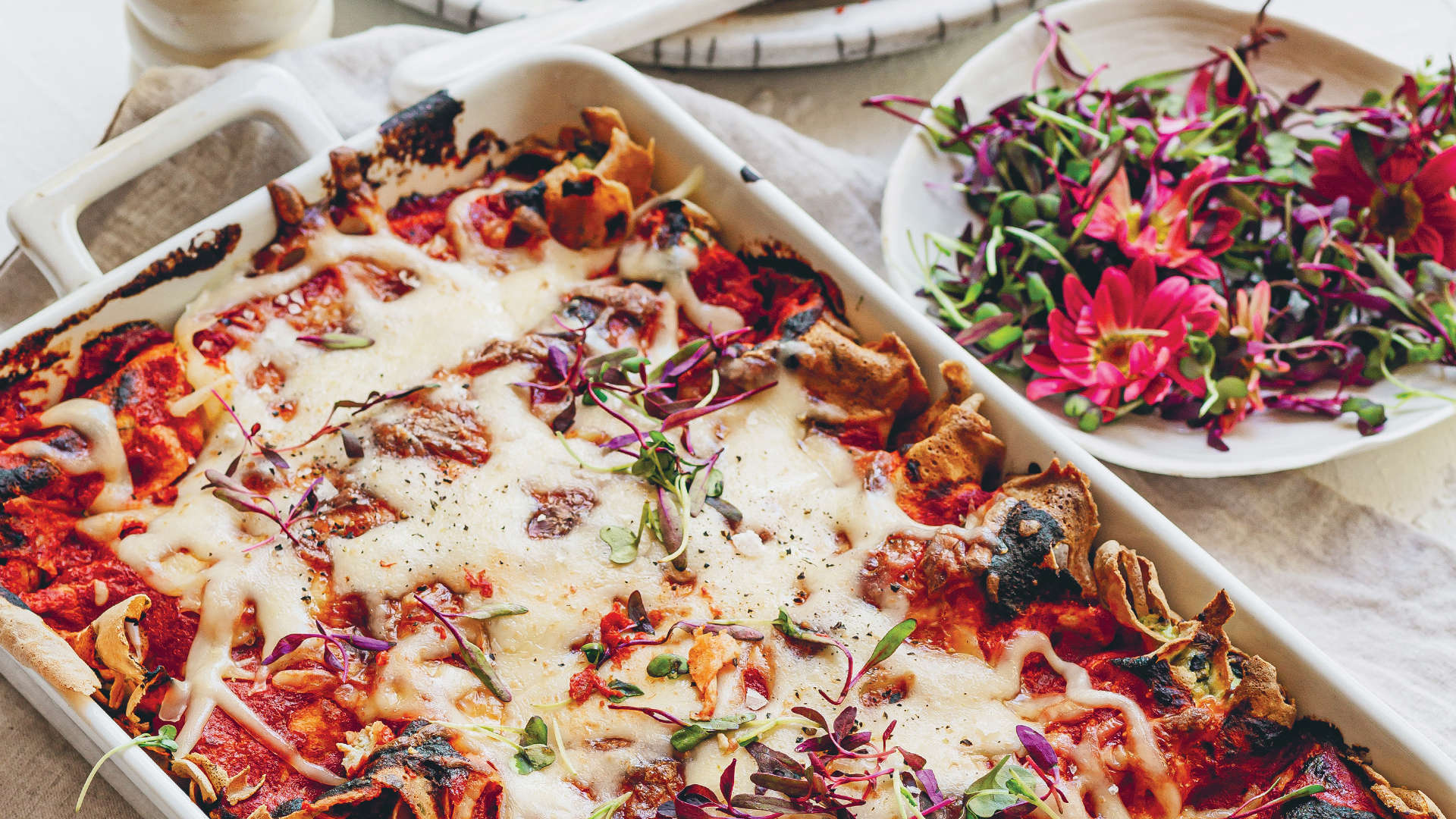 Prep time: 40 minutes
Cook time: 20 minutes
Serves: 4-6
INGREDIENTS
For the microgreen pesto:
20g toasted pine nuts
2 tbsp fresh lemon juice
1 small garlic clove
1⁄4 tsp SpinneysFOOD Fine Sea Salt
30g microgreens
10g SpinneysFOOD Fresh Basil
4 tbsp SpinneysFOOD Mediterranean Extra Virgin Olive Oil, more for a smoother pesto
For the egg crêpes:
4 large eggs
1⁄2 tsp SpinneysFOOD Fine Sea Salt
125g SpinneysFOOD All-Purpose Flour Handful of SpinneysFOOD Microgreens 125ml SpinneysFOOD Bottled Drinking Water Sunflower oil spray, to grease
For the filling:
60g Parmesan
110g SpinneysFOOD Organic Baby Spinach 250g fresh ricotta
2 large egg yolks
80g microgreen pesto (see recipe below)
For the topping:
1 x 400g tin SpinneysFOOD Organic Chopped Italian Tomatoes
1 tbsp red grape vinegar
2 tbsp SpinneysFOOD Mediterranean Extra Virgin Olive Oil, plus extra to serve
1 tsp SpinneysFOOD Fine Sea Salt 200g SpinneysFOOD Mozzarella
To serve:
SpinneysFOOD Microgreens
SpinneysFOOD Black Pepper, freshly ground
preparation
1 Preheat the oven to 180°C, gas mark 4. Grease a 21⁄2L baking dish.
2 To make the pesto, add the pine nuts, lemon juice, garlic and salt to a food processor. Pulse to combine. Add the microgreens and basil, then pulse again. With the food processor running, drizzle the olive oil in a steady stream until smooth. Adjust the seasoning to taste. Set aside.
3 To make the crêpes, place the eggs in the bowl of a stand mixer fitted with a whisk attachment and whisk until frothy. Add in the salt and, in batches of three, whisk in the flour. Finely chop the microgreens. Add in the water and microgreens and whisk to just combine.
4 Heat a non-stick frying pan over a medium-high heat and grease with cooking spray.
5 Pour 80ml of the crêpe batter in the pan and swirl to coat the base of the pan.
Cook for 1 minute or until set, flip and cook on the other side for another 30 seconds or until both sides are golden.
6 For the filling, finely grate the Parmesan. Chop the baby spinach.
7 Add the ricotta, egg yolks, Parmesan, baby spinach and pesto to a large bowl. Stir to combine.
8 Spread 80ml of the filling in
the centre of each crêpe and roll to enclose. Arrange the filled crêpes in a prepared baking dish.
9 Combine the tomatoes, vinegar, oil and salt in a blender and blitz. Pour the mixture over the crêpes and top with mozzarella. 10 Bake for approx. 15-20 minutes or until golden and bubbling. Top with extra microgreens and freshly ground black pepper.