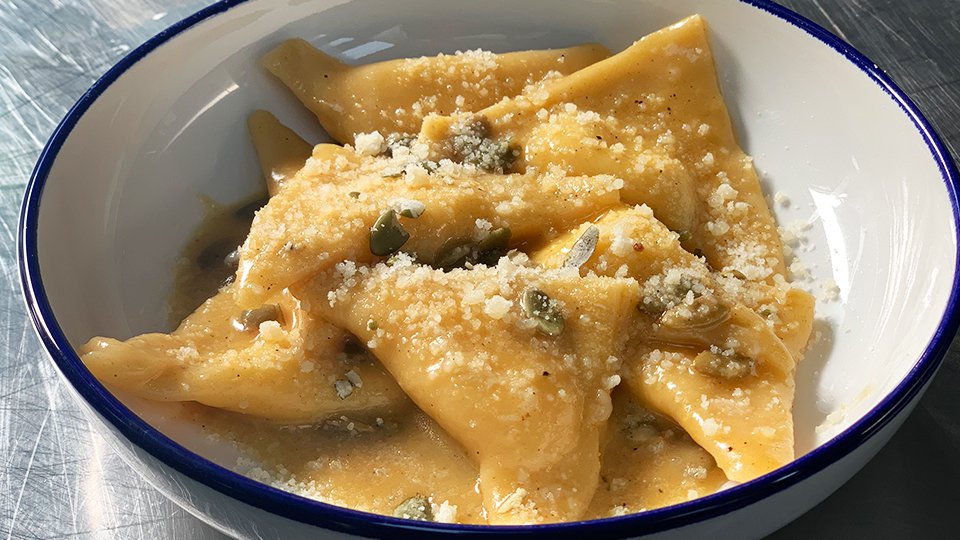 Have you ever tried your hand at homemade ravioli? Well now is your chance as Chef Omar Basiony demonstrates how, without using any special equipment!
Using the finest Spinneys ingredients, Omar Basiony, Head of Culinary at LDC Kitchen + Coffee makes ricotta ravioli with a rolling pin! Basiony adds a festive edge with a little nutmeg in the filling, and by pairing it with brown butter, sage and toasted pumpkin seeds.
A great dish to impress guests or to have fun making with the family. Click below to cook up this recipe in the comfort of your own home!

INGREDIENTS
Pasta Dough
500gm/ 4 cups All purpose flour (for dusting too)
5 Whole Eggs
5 egg yolks
15 ml/ 1tbsp olive oil
pinch salt
100gm extra flour for dusting table
200gm Semolina or corn meal
Salt for the pasta water
1 whole egg, for egg wash

Filling
250gm Ricotta
50gm Cream cheese
50gm / 1tbsp Grated parmesan
1g/ 1/8tsp salt
1g / 1/8tsp Nutmeg powder
1g / 1/8tsp ground black pepper

Sauce
100gm Butter
bunch of sage
50gm Grated parmesan
50gm pumpkin seeds
ground black peppe
Garnish
Grated parmesan
Ground Black pepper