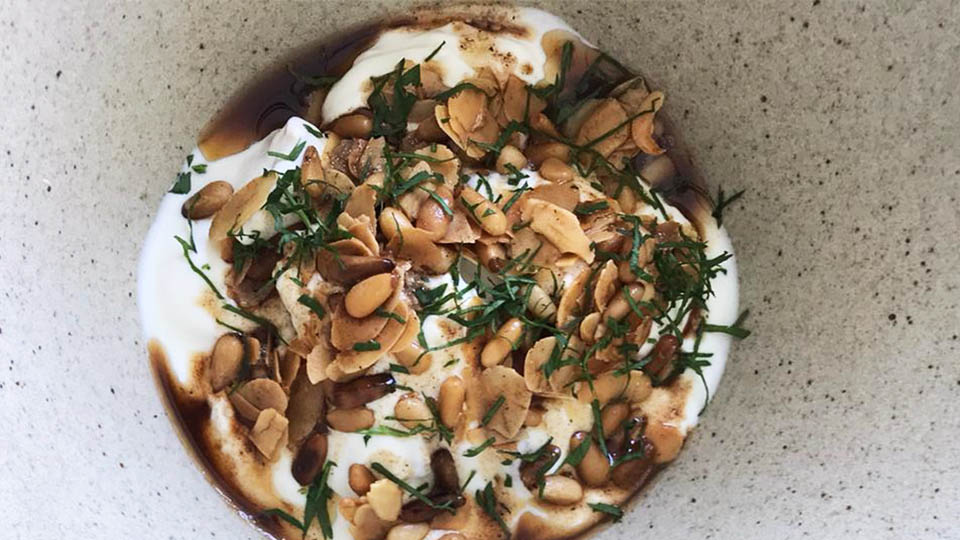 Chef Jesse Blake gets creative with this lobster-licious/ delicious twist on fatteh.
Chef Jesse Blake takes fatteh to a new level, using lobster and chargrilled eggplant. The perfect dish to use your bbq for during the winter months.
You can order all the ingredients from Spinneys and learn how to recreate this at home on the video below.
Ingredients
Lobster & Eggplant
• Omani lobster tail 2 tails @ approx. 200g
• eggplant local 1pc / 400g
• garlic 4g
• lemon 50g
• olive oil 30g
• 7 spice mix 1g

Fattoush
• tomato, ripe roma 150g
• cucumber, local 60g
• parsley, flat-leaf 20g
• mint 20g
• lemon 50g
• olive oil 30g
• red onion 10g
• Arabic pita 1 pc
Chickpeas & Yogurt Sauce
• chickpeas, tinned 60g
• garlic 4g
• Yoghurt, full fat 100g
• lemon 50g
Spiced butter & Nuts
• salted butter 60g
• flaked almonds 15g
• pinenuts, small 15g
• 7 spice mix 1g
• lemon 5