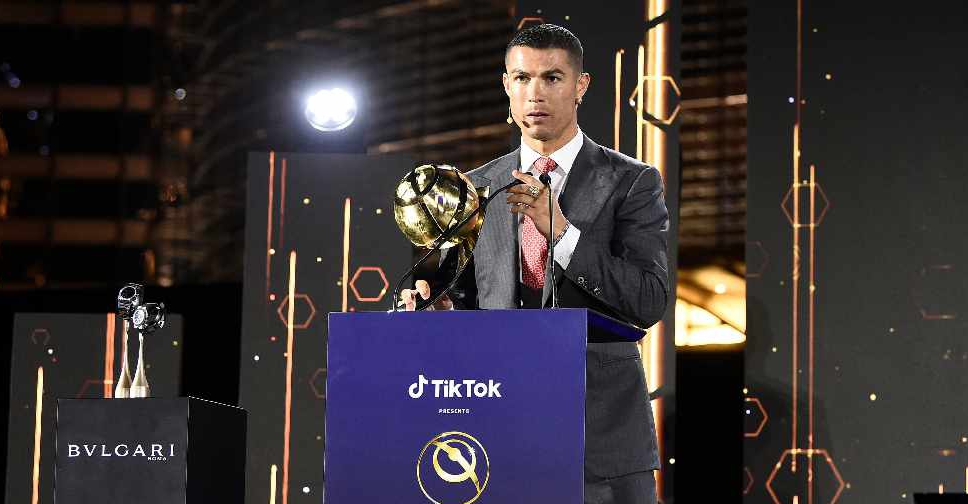 Twitter(@Globe Soccer Awards)
Cristiano Ronaldo has been voted Player of the Century 2001-2020 in a star-studded ceremony at the Dubai Globe Soccer Awards.
Juventus forward Ronaldo became the first recipient of the prize at a ceremony on Sunday night.
His Highness Sheikh Mansoor Bin Mohammed Bin Rashid Al Maktoum, Chairman of Dubai Sports Council, presented the award.
The event was held in collaboration with the Dubai Sports Council and the Dubai International Sports Conference, and it was attended by the game's top players and officials in person.
Bayern Munich striker Robert Lewandowski won Player of the Year.
While Iker Casillas and Gerard Pique received Player Career awards.
Pep Guardiola was named Best Coach in the World for the period 2001-2020.
توج سمو الشيخ منصور بن محمد بن راشد آل مكتوم رئيس مجلس دبي الرياضي الفائزين بجائزة دبي #غلوب_سوكر والتي تقام تزامناً مع #مؤتمر_دبي_الرياضي_الدولي
بحضور معالي مطر الطاير نائب رئيس مجلس دبي الرياضي، وجياني انفانتينو رئيس الاتحاد الدولي لكرة القدم pic.twitter.com/JoJDWrO0Uv

— Dubai Sports Council (@DubaiSC) December 27, 2020