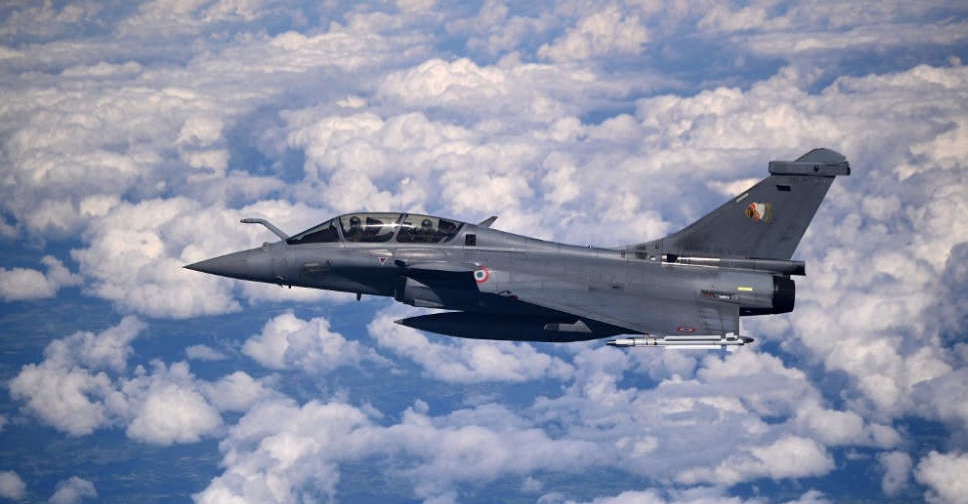 Christophe SIMON / AFP
The UAE has purchased 80 Rafale fighter jets to replace the Air Force Mirage fleet.
The deal was signed between the UAE Ministry of Defense and France, according to national media WAM.
It was overseen by His Highness Sheikh Mohamed bin Zayed Al Nahyan, Crown Prince of Abu Dhabi and Deputy Supreme Commander of the UAE's Armed Forces, and French President Emmanuel Macron.
I was pleased to welcome French President Emmanuel Macron to the UAE today. We enjoyed productive talks building on the longstanding bonds of friendship and strategic cooperation between our two countries, and witnessed the signing of several new partnerships in a range of fields pic.twitter.com/C3KSH1gyc9

— محمد بن زايد (@MohamedBinZayed) December 3, 2021
The deal was signed during the leaders' visit to EXPO 2020 Dubai.
Commenting on this deal, Major General Staff Pilot Ibrahim Nasser Al Alawi, UAE Commander of the Air Force and Air Defense, said: "Based on our talks with our French counterparts, we came to a mutual agreement that the Rafale provide the best option for the UAE security and defence."
Both the UAE and Rafale-producer, Dassault Aviation, share a 45-year long relationship, built on the Mirage family of fighter aircraft, notably the Mirage 2000-9
Xavier Chatel, the French ambassador to the UAE, spoke to Dubai Eye 103.8's Business Breakfast emphasising on the UAE and France's common goals and historic ties that led to this purchase.
In a statement released by Dassault Aviation, the new Rafale deal "represent thousands of guaranteed jobs in our sector for the coming decade."
Additionally, Emmanuel Macron took to Twitter to add that the UAE has also placed a deal to buy 12 Caracal helicopters (Airbus Helicopters H225M).
Avec les Émirats arabes unis, nous scellons aujourd'hui la vente de 80 avions Rafale et 12 hélicoptères Caracal. En confiance, nous agissons ensemble pour notre sécurité.

— Emmanuel Macron (@EmmanuelMacron) December 3, 2021
The French jets are in addition to the ongoing F-35 discussions with the US.