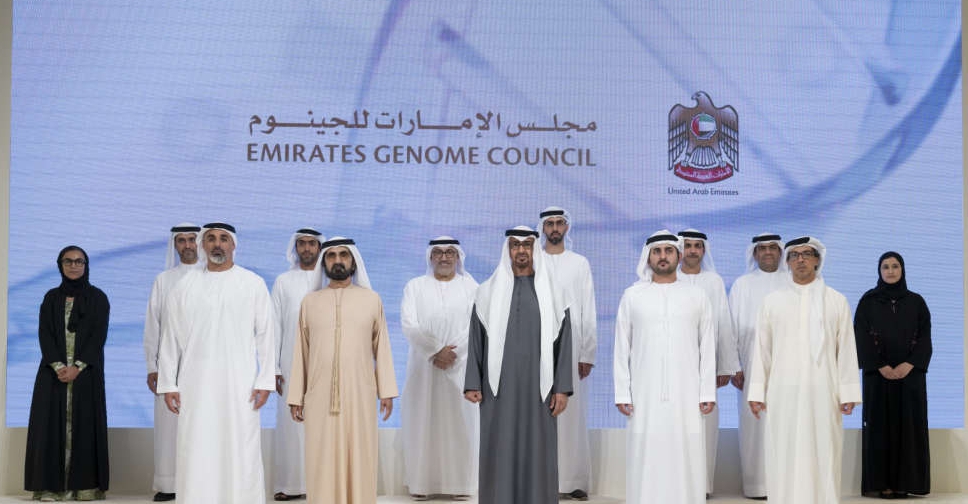 WAM
The UAE has launched the National Genome Strategy to build a sustainable ecosystem to advance health and wellbeing in the country.
It was launched in the presence of President His Highness Sheikh Mohamed bin Zayed Al Nahyan and His Highness Sheikh Mohammed bin Rashid Al Maktoum, Vice President and Prime Minister of the UAE and Ruler of Dubai, on Tuesday.
The strategy, over the next 10 years, will provide a comprehensive framework of legislation and governance to support the development and implementation of genomic programmes.
"Science and knowledge have always been key drivers of the UAE's development. Our priority is to ensure the best healthcare and quality of life for our people," said Sheikh Mohamed.
Sheikh Mohammed added that the "National Genome Strategy highlights the country's position as a hub for advanced healthcare research, innovation and future technology use".
Sara bint Yousef Al Amiri, Secretary-General of the Emirates Genome Council, said, "With the National Genome Strategy, the council seeks to build a sustainable ecosystem to advance health and wellbeing in the UAE.
"Our strategy is based on five key pillars: establishing an agile framework of legislation and governance; creating a harmonised and secure data infrastructure; developing top-tier genomic research and innovation capabilities; focusing on genomic applications that align with public health priorities; and building strategic partnerships that accelerate delivery of best-in-class programmes."
The programme has to date over 50,000 Emirati genome samples to help understand genetic health risks, prevent diseases and provide personalised treatments. The council plans to collect one million samples nationwide to understand genetic makeup and provide personalised healthcare services.
The National Genome Strategy will support preventive and precision medicine programmes, reduce healthcare costs and create economic opportunities in fields such as AI, advanced medical care, and research.