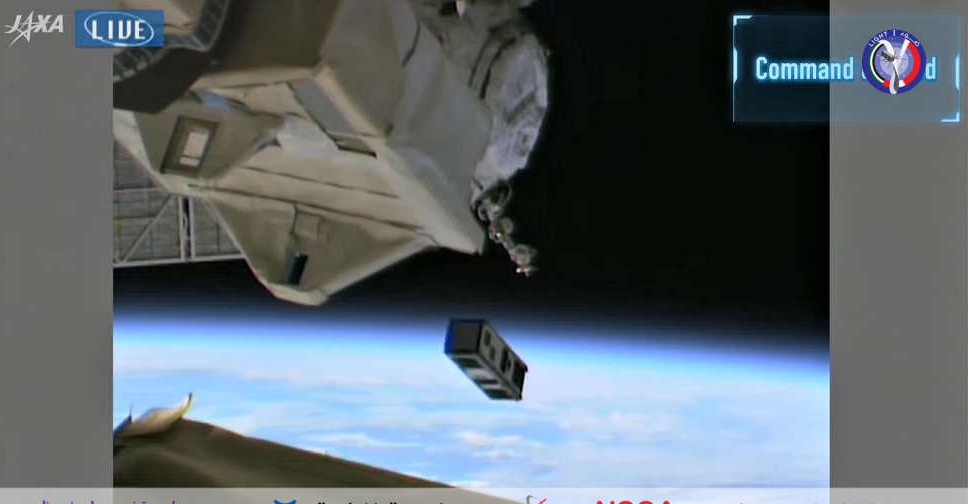 The UAE-Bahraini Light-1 CubeSat has been successfully launched into orbit from the International Space Station, in cooperation with the Japan Aerospace Exploration Agency (JAXA).
The nanosatellite is a joint initiative between the UAE Space Agency, Bahrain's National Space Science Agency, Khalifa University of Science and Technology, and New York University (NYU) Abu Dhabi.
JAXA coordinated the launch from the Tsukuba Space Centre (TKSC), and the event was livestreamed.
The Light-1 CubeSat represents the region's first scientific mission to monitor and study Terrestrial Gamma-ray Flashes (TGFs) from thunderstorms and lightning.
The data gathered will be shared globally to support scientific analysis and encourage cooperation with research centres around the world.
The team that worked on the design and development of Light-1 bus consists of 22 students from Khalifa University including nine Bahrainis, 10 Emiratis, and three international students, advised by Dr. Firas Jarrar, Manager, Yahsat Space Lab, Assistant Professor, Mechanical Engineering.
The NYU Abu Dhabi team of five Emirati students and five international students, who worked on the development of the payload called Rapid Acquisition Atmospheric Detector (RAAD – Arabic for 'thunder'), was advised by Dr. Francesco Arneodo, Programme Head of Physics, and Dr. Mallory Roberts, Professor of Physics.
The impact of high-energy gamma-ray emissions on atmosphere, air traffic and human health, especially flight crews, will be studied by Light-1.
These rays can penetrate aircraft structures, and therefore the data will improve understanding related to radiation exposure.
Light-1's gamma-ray detection system RAAD, designed and assembled with a unique layout, and making use of state-of-the-art detection devices, is competitive with bigger satellites and can make an impactful contribution to the comprehension of TGFs.
Thanks to its innovative technology, the Light-1 nanosatellite might become a pathfinder of future and larger missions targeting gamma rays.
Congratulation! the UAE-Bahrain Nanosatellite Light-1 Successfully Deployed into Earth's Orbit by key entities and experts to achieve one common, inspiring goal pic.twitter.com/lwW2fNDJc3

— وكالة الإمارات للفضاء (@uaespaceagency) February 3, 2022