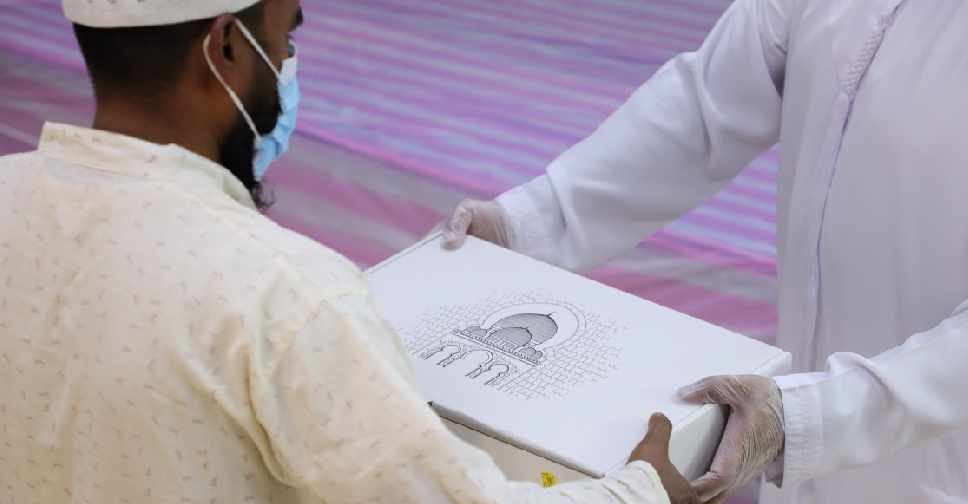 WAM
The Sheikh Zayed Grand Mosque Centre in Abu Dhabi is distributing 15,000 Iftar meals per day during the Holy Month of Ramadan, to staff at labour sites across the emirate.
It's part of the centre's mission to honour the memory of the UAE's Founding Father, the late Sheikh Zayed bin Sultan Al Nahyan, and to reflect his pioneering humanitarian approach.
The initiative is being run with the Armed Forces Officers Club and Hotel.
It's helping to prepare the Iftar meals following the highest standards of food health and safety, with a team of 90 chefs and 145 staff working around the clock.
The food is being distributed in coordination with the Specialised Economic Zones (ZonesCorp), in support of the actions taken by the UAE leadership to minimise the effects of the COVID-19 pandemic.
The meals are transported by trucks equipped and certified by the Abu Dhabi Agriculture & Food Safety Authority, under the necessary precautionary measures to prevent the spread of the virus.
Shaikha Al Kaabi, CEO of Armed Forces Officers Club & Hotel, said, ''These efforts revive the values of the Founding Father, who was known for his infinite generosity, that went beyond the country to extend to the entire world, reflecting the lofty principles of brotherhood and giving, implanted by him and established by our wise leadership afterwards. This initiative also reflects the culture of giving on which the country was founded, based on its Arab and Islamic identity."
Amal Bamatraf, Director of the Cultural Communication Department at the Sheikh Zayed Grand Mosque Centre, added, "As we take a moment to remember all the humanitarian achievements of the founding father, we stand witnessing a march of great grace and giving that has brought about the harmony the has made the UAE an example of the initiating generosity and the act of giving."