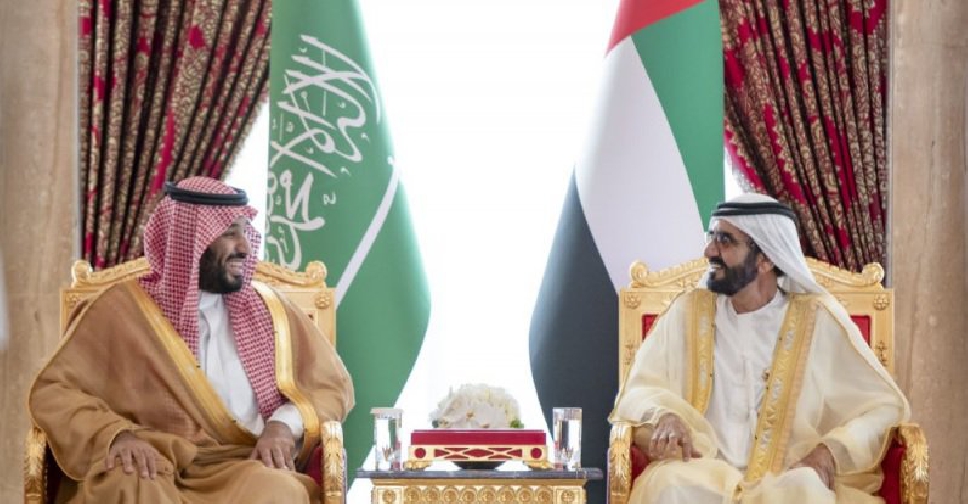 WAM
The Ruler of Dubai held talks with Saudi Arabia's Crown Prince Mohammed bin Salman at Zabeel Palace on Thursday.
During the meeting, His Highness Sheikh Mohammed Bin Rashid Al Maktoum, Vice-President and Prime Minister of the UAE and Ruler of Dubai, highlighted the strategic relationship between the two nations and discussed topics of mutual interests and ways of developing it.
استقبلت في دبي اليوم بكل الود والمحبة سمو الأمير محمد بن سلمان بن عبدالعزيز ولي عهد المملكة .. حللت أهلا بين أهلك وأحبابك .. التاريخ يصنعه الشجعان .. وتاريخ المنطقة اليوم يتغير بسبب محمد بن سلمان pic.twitter.com/3G5it9LVGT

— HH Sheikh Mohammed (@HHShkMohd) November 28, 2019
The reception was attended by a number of dignitaries and senior officials from both countries.
محمد بن راشد: استقبلت في #دبي اليوم بكل الود والمحبة سمو الأمير محمد بن سلمان بن عبدالعزيز ولي عهد المملكة .. حللت أهلا بين أهلك وأحبابك .. التاريخ يصنعه الشجعان .. وتاريخ المنطقة اليوم يتغير بسبب محمد بن سلمان.

مصدر الفيديو: حساب محمد بن راشد على الانستغرام#الإمارات pic.twitter.com/np68t5ncDX

— Dubai Media Office (@DXBMediaOffice) November 28, 2019
Later, the Saudi Crown Prince toured the Expo 2020 site along with His Highness Sheikh Hamdan bin Mohammed bin Rashid Al Maktoum, Crown Prince of Dubai and Chairman of Dubai Executive Council.
He visited Al Wasl Plaza and toured the UAE and Saudi pavilions.