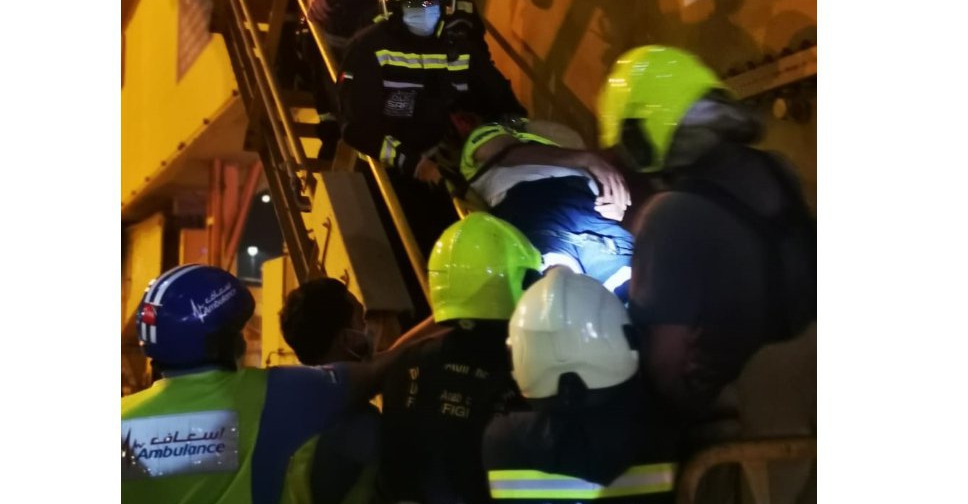 Supplied
A crane operator who suffered a heart attack while on duty has been rescued by Dubai Police.
The man fell ill and got stuck on the crane at Jebel Ali Port while working at a height of 65 metres.
Emergency response teams climbed to the top and provided him with first-aid before transferring him to hospital for treatment.
The successful operation was carried out by the Difficult Missions and Land Rescue teams at Dubai Police, in cooperation with Dubai Civil Defence and Dubai Corporation for Ambulance Services.
Lt. Col. Yahya Hussain Muhammad, Head of the Difficult Missions Section at the General Department of Transport and Rescue at Dubai Police, said the operator, who was performing his regular duties, suddenly became ill and suffered a blood clot.
He added that a key challenge was to manually carry the man swiftly and safely as the crane's electric lift had malfunctioned.
"Our teams of technicians had to repair the lift and operate it manually before we lifted the man down to the first floor where he was then placed on a stretcher and carried down to the ambulance, and then to the hospital, where he received specialised medical treatment," Lt. Col. Muhammad added.