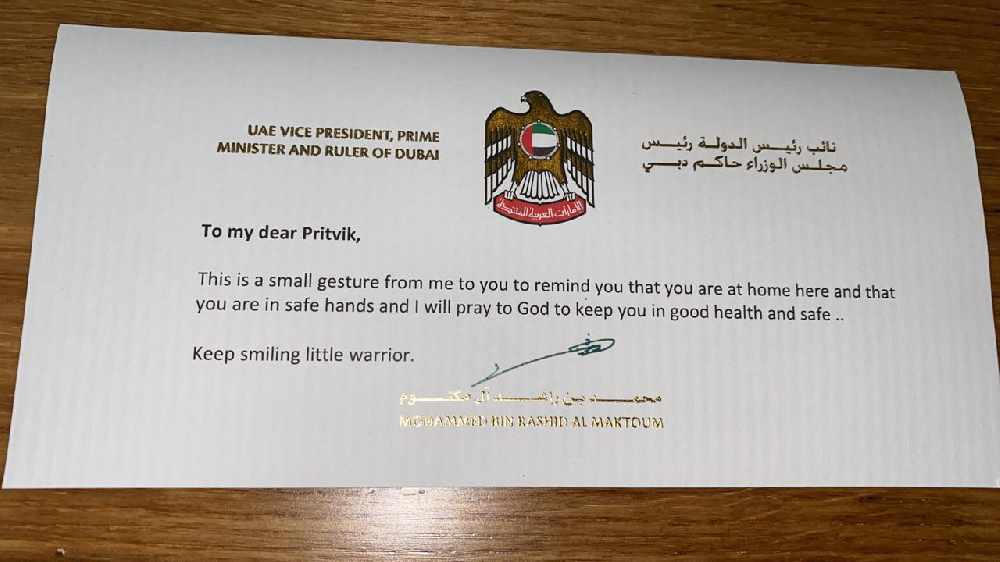 EMARAT ALYOUM
His Highness Sheikh Mohammed bin Rashid Al Maktoum, the Vice President and Prime Minister of the UAE and Ruler of Dubai, has sent a letter and a bouquet of flowers to a student suffering from kidney failure.
Pritvik Sinhad, 15, from India has suffered from kidney failure for a long time and is awaiting a kidney transplant operation.
Pritvik was scheduled to undergo a kidney-transplant donated by his father, but the travel restrictions prevented his father from returning, while his mother also had difficulty bearing the cost of treatment.
In his message, His Highness wrote, "To my dear Pritvik, this is a small gesture from me to you to remind you that you are at home here and that you are in safe hands, and I will pray to God to keep you in good health and safe. Keep smiling, little warrior."
On receiving the note, Pritvik said, "I am unable to speak, and I cannot describe the generosity of His Highness Sheikh Mohammed bin Rashid Al Maktoum, and I want to thank him from the bottom of my heart, after I learned that he supported me throughout my health crisis, and this is a great honour for me."
"Once I complete the kidney transplant and restore my health, I will make sure to return the favor to the Emirates, and I will do my best to serve this country that gave me everything."
The student's mother, Indira Darchodori, said that her income had been affected by the COVID-19 crisis which put her son's life in danger, until the support and message of His Highness Sheikh Mohammed bin Rashid Al Maktoum came.
She added that she and her family will work to return the favour to this great country.