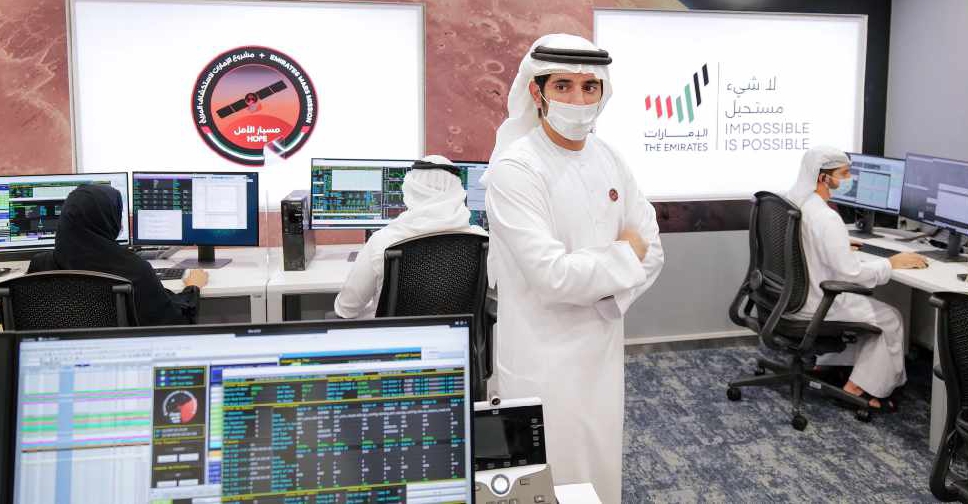 @DXBMediaOffice/ Twitter
His Highness Sheikh Hamdan bin Mohammed bin Rashid Al Maktoum, Dubai's Crown Prince and Chairman of Dubai Executive Council, has reviewed the final stages of the Hope Probe's mission to Mars.
During a visit to the mission's control centre at the Mohammed bin Rashid Space Centre (MBRSC), Sheikh Hamdan assessed the different scenarios as the probe nears the Red Planet.
"We are incredibly proud of this young team for making one of the UAE's most ambitious projects a reality," said His Highness.
"The mission embodies a message of inspiration, ambition, and achievement for the Arab world and the region's entire youth. We are proud that the UAE, founded five decades ago, will become the fifth country to reach Mars," he added.
Today, I was briefed on @MBRSpaceCentre's final preparations for the Hope Probe's mission to Mars and we assessed the different scenarios as it nears the Red Planet. We are incredibly proud of this young team for making one of the UAE's most ambitious projects a reality. pic.twitter.com/b4pPJ8sUKu

— Hamdan bin Mohammed (@HamdanMohammed) February 8, 2021