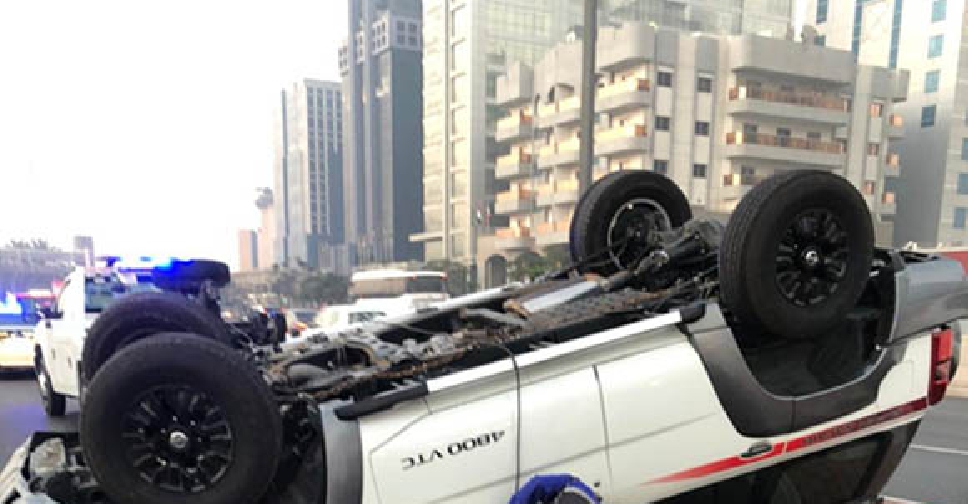 Supplied
Six people were injured in five different accidents on Dubai's roads in the last 48 hours.
Brigadier Saif Muhair Al Mazrouei, Director of the General Department of Traffic at Dubai Police, said distracted driving, sudden swerving and speeding were the main causes of these accidents.
The first accident occurred on an internal road in Al Quoz Industrial Area in front of the Emirates Driving Institute, when a light vehicle collided with an e-scooter rider who was riding in an undesignated zone.
The biker was seriously injured and was taken to hospital for treatment.
The second incident took place in Umm Ramool area when a lorry crashed into a light vehicle, causing a mild injury to the car's driver.
Another accident happened on Al Ittihad Road in Al Mulla Plaza tunnel in the Dubai-bound direction when a vehicle veered off the road and hit a cement barrier before turning over. The driver sustained moderate injuries.
Brigadier Al Mazrouei added that the fourth accident occurred on Wednesday morning on a service road along Sheikh Zayed Road.
"We received a report about a speeding vehicle that deviated from its lane and collided so hard with another vehicle that it veered off the road and turned over. The crash left both vehicles severely damaged, and resulted in two injuries, one of which was serious," Al Mazrouei explained.
He added that in the fifth incident, a driver sustained mild injuries when his vehicle deviated onto the pavement and turned over on Al Ittihad Road towards Bur Dubai.
The official has warned motorists against speeding, improper overtaking, sudden swerving and being distracted while driving.
He noted that most accidents on highways occur due to violations of traffic laws and they cause major damage to properties and lives.