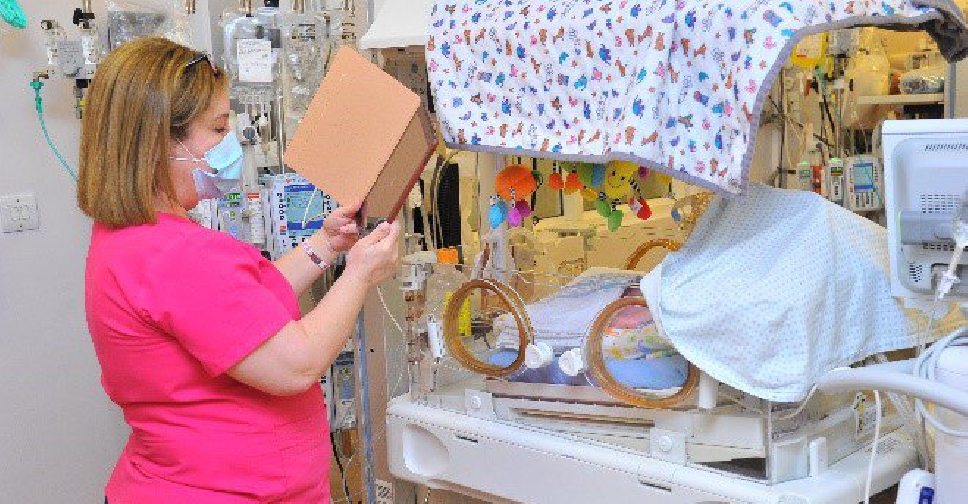 WAM
A baby, who's receiving critical treatment in a hospital in Abu Dhabi, is celebrating her first birthday soon.
Zeina, one of twin babies born at 24 weeks on August 8 last year, suffered from severe twin-to-twin transfusion syndrome in her mother's womb.

She was then admitted to the Neonatal Intensive Care Unit (NICU) at Corniche Hospital to receive specialized medical care by her parents, who left to Kuwait shortly after her birth to attend to their other children.

Prior to her birth, doctors performed fetoscopic laser on the twins while still inside the womb to the rare pregnancy condition.
"The Fetal Medicine Unit is the only center in the UAE and one of the few in Gulf region that offers this procedure. We have completed the 100th fetoscopic laser procedure during this week, a milestone that marks our legacy of expertise in the fetal therapy. Mothers and fetuses are our patients," said Dr Leanne Bricker, Consultant in Fetal Medicine and Chair of Fetal Medicine and Medical Imaging at Corniche Hospital.

With the help of the medical staff at Corniche Hospital, they were able to follow-up on their baby's developments and physiotherapy sessions via video calls.

The NICU staff revealed that they developed a special bond with baby Zeina, watching her grow from a 600 gram pre-term newborn to a an 8-kilogram healthy baby.

Zeina's parents are hoping to celebrate her first birthday with the whole family back home in Kuwait.

"I express my utmost gratitude to the Corniche Hospital in Abu Dhabi for their efforts in taking such great care of my daughter Zeina despite the conditions, and I also express my heartfelt thanks to the country of tolerance and humanity, the UAE, and to the Mother of the Nation, Sheikha Fatima, and to His Highness Sheikh Mohammed Bin Zayed Al Nahyan, may God prolong his life." said Lina, Zeina's mother, expressing her appreciation for Corniche Hospital's efforts.