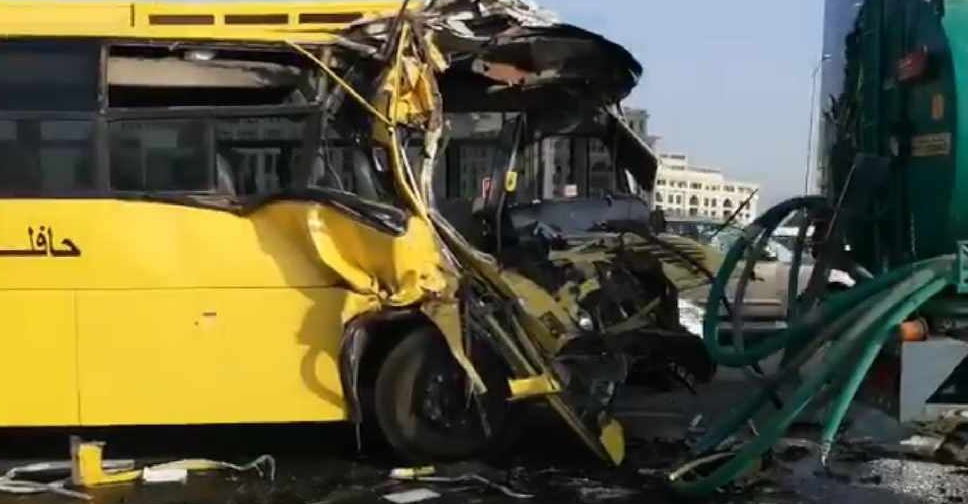 Dubai Police
Fifteen students have suffered minor injuries after a school bus collided with a water tanker on Business Bay Crossing on Monday morning.
Dubai Police told ARN News that four others were also injured in the incident, including the driver of the tanker and a bus supervisor.
All the injured were transferred to Rashid Hospital for treatment.
According to police, preliminary information indicates that the accident was caused due to the lack of a safe distance between the two vehicles.
The crash caused major tailbacks on Al Khail Road heading towards Sharjah.
A GEMS spokesperson told ARN News that all school students were wearing seatbelts, and their parents were informed about the crash.
"All students are safe, however, a small number of students and staff sustained minor injuries and have been taken to hospital," their statement read.
"All other students who were involved have been taken back to school and have been given a thorough check-up by the school doctor."
An #accident on Business Bay Crossing,between "Our Own English High School-Al Warqa'a" bus & a water tanker resulted in 15 minor injuries among pupils; 2 minor&1 moderate injury among bus supervisors.Tanker driver sustained moderate injuries. All transferred to Rashid Hospital pic.twitter.com/uJQtiVax0B

— Dubai Policeشرطة دبي (@DubaiPoliceHQ) September 9, 2019