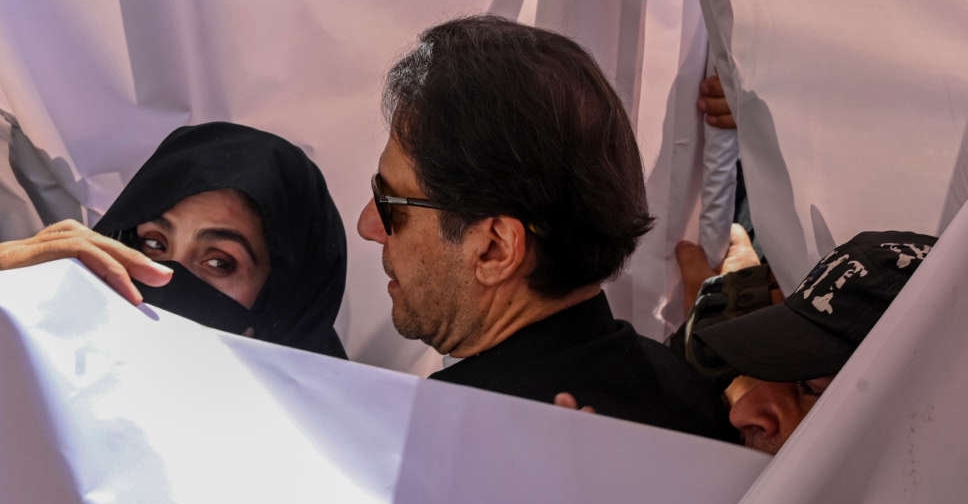 A Pakistani court in the eastern city of Lahore on Monday granted bail until May 23 to former Prime Minister Imran Khan's wife in a graft case, a lawyer in their legal team said.
Khan was arrested by the country's anti-graft agency last week in the same case, prompting violent protests across the country, which is already reeling from a crippling economic crisis. He was later released and received bail from a court in Islamabad for two weeks.
Khan's wife, Bushra Bibi, was co-accused along with Khan in the case, which pertained to the alleged receiving of financial help from a land developer in the setting-up of Al Qadir University of which the former premier and his spouse are trustees.
"We had requested for a protective bail for Bushra Bibi in Al Qadir Trust Case and a two-judge bench of LHC has granted the bail till May 23," Bibi's lawyer, Intizar Hussain Panjutha, told Reuters.
Khan, who accompanied his wife to the Lahore High Court, had earlier on Monday expressed fears that the government was planning to arrest his wife as part of what he says is a campaign against him.
"The plan is now to humiliate me by putting Bushra Begum in jail," he said in a post on Twitter.
Information Minister Marriyum Aurangzeb did not immediately respond to a request for comment. The government denies being behind the case and says the anti-graft agency, the National Accountability Bureau, is working independently.
The case is one of more than 100 registered against the embattled Khan since he was ousted from power last year in a parliamentary vote having served less than four of his five-year term.
He has since campaigned across the country for fresh elections and blames the military for cracking down on him and his party - a charge the military denies. He was shot and wounded in an attack while campaigning last year.
Visuals shared by his party showed Khan's security detail surrounding the vehicle carrying Bibi and using a large white cloth curtain to cover her as she alighted.