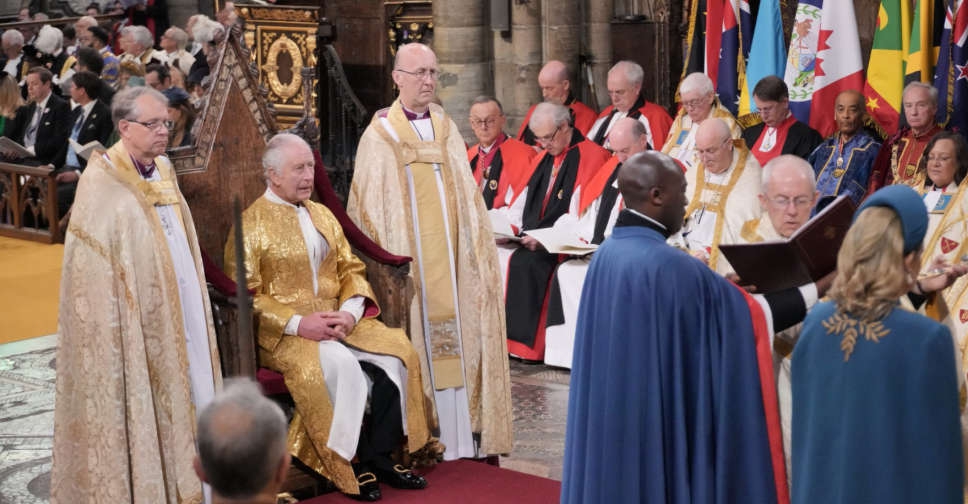 AFP
King Charles III was crowned on Saturday in Britain's biggest ceremonial event for seven decades, a sumptuous display of pageantry dating back 1,000 years.
In front of a congregation of world leaders and a television audience of millions, the Archbishop of Canterbury, the spiritual leader of the Anglican Church, slowly placed the 360-year-old St Edward's Crown on Charles' head as he sat upon a 14th-century throne in Westminster Abbey.
The historic and solemn event dates back to the time of the 74-year-old's predecessor William the Conqueror in 1066.
Gun salutes were fired at the Tower of London and across the capital, the nation, in Gibraltar, Bermuda and on ships at sea.
"God save King Charles. Long live King Charles. May the king live forever," the congregation at the abbey said after a trumpet fanfare.
During the historic and solemn two-hour service, Charles' second wife Camilla was also crowned queen.
𝐓𝐡𝐞 𝐂𝐫𝐨𝐰𝐧𝐢𝐧𝐠 𝐨𝐟 𝐓𝐡𝐞 𝐊𝐢𝐧𝐠

The Archbishop of Canterbury places St Edward's Crown on The King's anointed head. The clergy, congregation and choir all cry 'God Save The King'.#Coronation pic.twitter.com/kGrV3W0bky

— The Royal Family (@RoyalFamily) May 6, 2023
𝐓𝐡𝐞 𝐂𝐫𝐨𝐰𝐧𝐢𝐧𝐠 𝐨𝐟 𝐓𝐡𝐞 𝐐𝐮𝐞𝐞𝐧

Her Majesty is crowned with Queen Mary's Crown. pic.twitter.com/ROa9Q2nK2t

— The Royal Family (@RoyalFamily) May 6, 2023
King Charles and Queen Camilla left Westminister Abbey in the Gold State Coach after their formal coronation ceremony.
Pulled by eight horses, the 260-year-old coach will be cheered by crowds as it travels back along the 1.4 mile route to Buckingham Palace.
Named the Coronation Procession, the return leg features some 4,000 military officers.