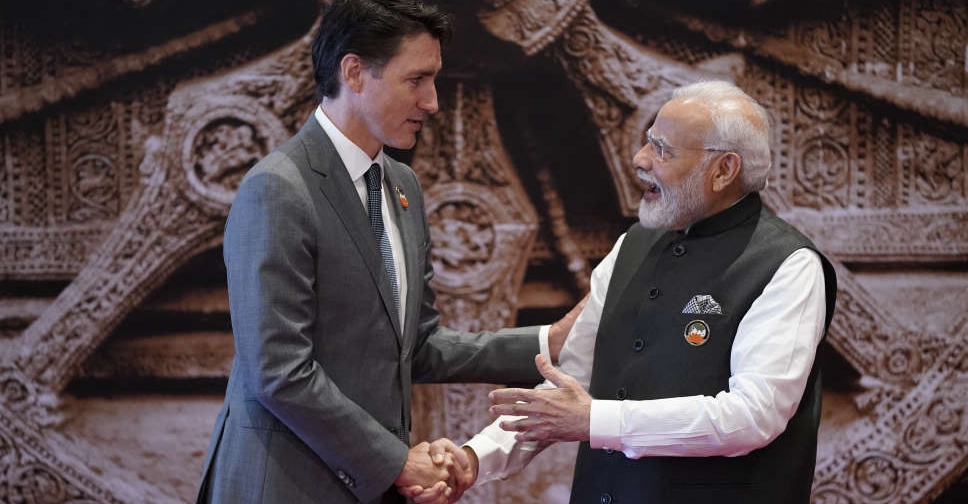 India on Thursday suspended new visas for Canadians and asked Ottawa to reduce its diplomatic presence in the country, sharply escalating a spat triggered by Prime Minister Justin Trudeau's accusations linking New Delhi to a Sikh separatist's murder.
India was willing to look into specific information in connection with the accusations, its foreign ministry said, adding that Canada has not shared anything so far.
A blanket suspension of new visas by India for a Western country is unheard of and marks the lowest point of India-Canada relations.
The announcement came hours after Canada's high commission in India said it would temporarily "adjust" staff presence in the country after some diplomats received threats on social media platforms. The mission did not specify the nature of the threats, and India has said it would provide "all security and all support" to foreign diplomats.
Indian foreign ministry spokesperson Arindam Bagchi said India suspended issuing new visas to Canadian citizens due to "security threats" to its staff in its consulates in Canada.
India did not give details of the nature of these security threats, and Canada's public safety minister Dominic LeBlanc said in response that Canada was a safe country.
"Accordingly our high commission and consulates are temporarily unable to process visa applications," he told reporters at a weekly briefing on Thursday, adding that the security situation would be reviewed regularly.
Canada is the fourth largest source of foreign tourists with 350,000 visitors in 2019, a number which fell following the COVID-19 pandemic, according to Indian government data.
'RISK TO REPUTATION'
The unprecedented tensions flared up on Monday after Trudeau said Ottawa was investigating "credible allegations" about the potential involvement of Indian government agents in the June murder of Hardeep Singh Nijjar in British Columbia.
Prime Minister Narendra Modi's government denied any links to the alleged murder.
Canadian officials have so far declined to say why they believe India could be linked to Nijjar's murder.
The two countries, whose relations have been fraying in recent years over the issue of Sikh separatists, have since announced tit-for-tat expulsions of senior diplomats and issued tit-for-tat travel advisories.
Canada has discussed the issue with key allies such as the Five Eyes intelligence sharing alliance, which includes the United States, Britain, Australia and New Zealand, with Washington, London and Canberra expressing concern.
Asked if any of these countries, with whom India also enjoys close ties, had raised the issue with New Delhi, Bagchi said: "We have been discussing with them, we have conveyed our position how we see these developments."
THREAT TO TRADE TIES
The spat is also threatening trade ties, with talks on a proposed trade deal frozen last week.
Canada is India's 17th largest foreign investor, while Canadian portfolio investors have put billions of dollars in Indian financial markets.
Since 2018, India has been the largest source of international students in Canada, with their numbers rising 47 per cent in 2022 to nearly 320,000.
Industry estimates show the Comprehensive Economic Partnership Agreement (CEPA) between Canada and India could boost two-way trade by as much as $6.5 billion.