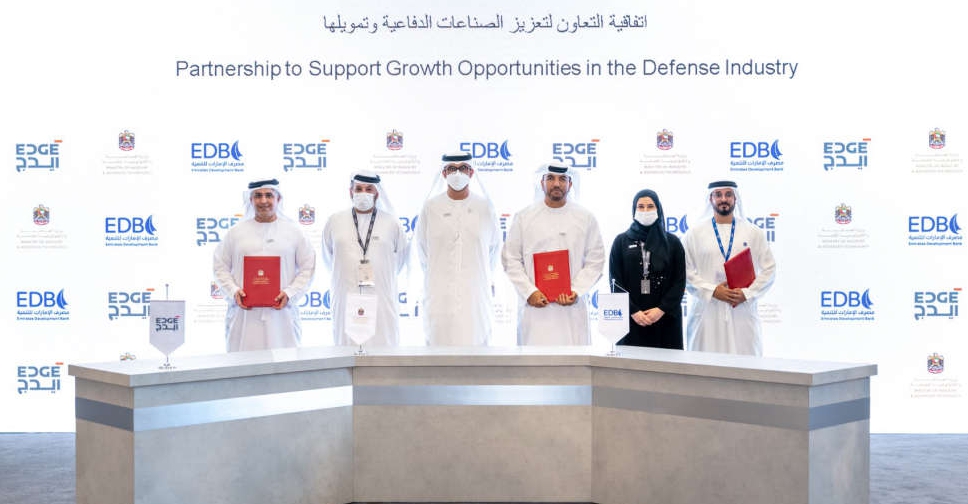 WAM
The UAE Ministry of Industry and Advanced Technology (MoIAT), Emirates Development Bank (EDB), and EDGE Group have signed a mutual agreement to support the Group's manufacturing development.
The agreement is in line with the UAE's Fourth Industrial Revolution programme, Industry 4.0, and aims to support growth in the defence sector, one of the key industries of the future. It includes financing of up to AED 1 billion provided by EDB to support and accelerate the industrialisation of EDGE's unique offerings.
The agreement was signed by Omar Al Suwaidi, Under-Secretary of the Ministry of Industry and Advanced Technology; Mansour Al Mulla, Managing Director and CEO, EDGE Group; and Ahmed Al Naqbi, CEO of Emirates Development Bank on the sidelines of Make It In The Emirates Forum.
Under the agreement, MoIAT will provide EDGE with a robust roadmap which will reinforce EDGE's position as one of the world's leading and most financially sound suppliers of military hardware and technology. MoIAT will support EDGE to expand global exports of cutting-edge domestically manufactured products and solutions to over 40 countries, spurred on by several recent wins against major industry players, boosting the group's contribution to in-country value.
In his remarks on the occasion, Dr. Sultan Al Jaber said, "In line with the directives of our leadership to diversify the UAE's economy, achieve sustainable development, and to enhance the country's value proposition, the agreement between MoIAT, EDB and EDGE Group aims to consolidate the UAE's position as a global industrial hub. The Ministry and EDB are committed to supporting leading national companies like EDGE to leverage the growth opportunities in the country.
"The financing will support EDGE's efforts to adopt advanced technologies and manufacturing processes and will contribute to increasing its exports, supporting the growth of the national economy. EDB is a strategic partner that enables the Ministry to implement its programmes and initiatives. We look forward to continuing our partnership with leading national companies to support the UAE's economic diversification, industrial growth, and sustainability."
The Make It In The Emirates forum has brought together over 1,300 delegates, including representatives from leading national companies, manufacturers and investors. It aims to promote the growth of national industries and discuss opportunities for partnership and cooperation in the industrial sector, in addition to presenting opportunities for product localisation, redirect the value of purchases into the national economy, and benefit from local purchasing power to develop the industrial sector.
MoIAT, EDB, EDGE Group sign joint agreement to boost manufacturing in defence sector.#WamNews https://t.co/Mpoq07fgtl pic.twitter.com/Rz5vp1bGXo

— WAM English (@WAMNEWS_ENG) June 21, 2022