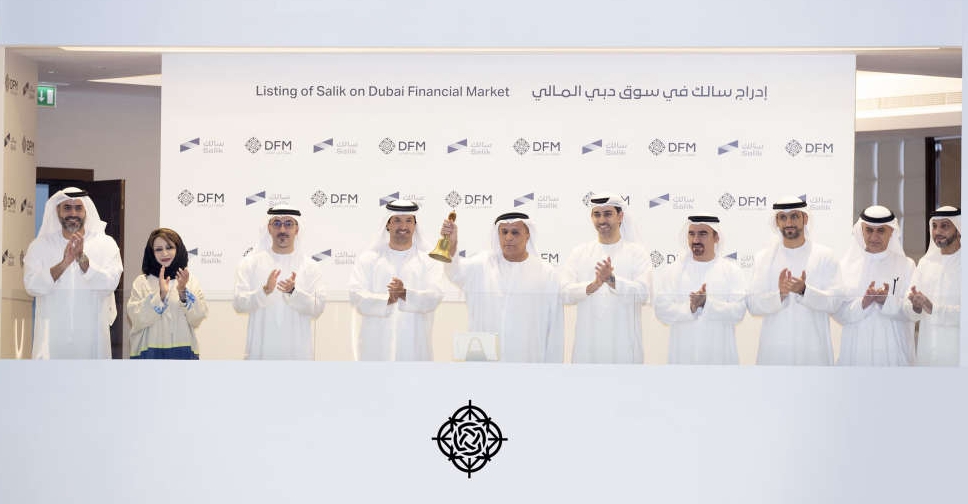 Supplied
The road toll operator Salik made its debut on the Dubai Financial Market (DFM) on Thursday.
The company's shares began trading under the ticker symbol "SALIK", culminating its successful public offering.
Mattar Al Tayer, Chairman of Salik, rang the DFM market opening bell to celebrate the listing, in the presence of Helal Al Marri, Chairman of the DFM, Ibrahim Sultan Al Haddad, Chief Executive Officer of Salik and Hamed Ali, CEO of the DFM and Nasdaq Dubai, as well as other senior executives.
The strong demand toward the issuance prompted the company to raise the offered shares to 1,867,500,000 representing 24.9 per cent of its share capital at a price of AED 2 instead of 20 per cent as initially planned.
The offering was oversubscribed by 49 times as it attracted orders with a total value of AED 184.2 billion.
At the close of trading on Thursday, shares of Salik settled 11 per cent above the listing price to AED 2.22.
This is the third public offering and listing on the DFM in 2022, as part of the accelerated steps to implement Dubai's strategy to develop financial markets, which includes offering shares in ten leading entities.
His Excellency Mattar Al Tayer, Chairman of Salik, rings the market opening bell to celebrate the listing of Salik Company (PJSC) on DFM, and the start of trading under the ticker symbol "SALIK". pic.twitter.com/JjpbaimtIf

— Dubai Financial Market (@DFMalerts) September 29, 2022
This listing offers #DFM investors a proxy to participate in the notable growth of these companies, supported by the world-class business environment and the rapid economic growth in Dubai. #DubaiFinancialMarket #Dubai #UAE #DubaiInvestor #Salik #Salik_IPO #SalikCompanyIPO

— Dubai Financial Market (@DFMalerts) September 29, 2022