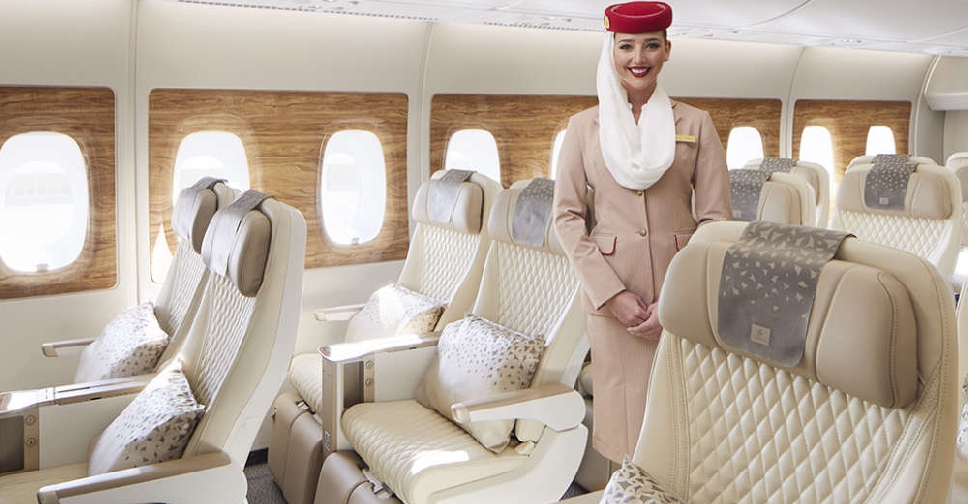 Twitter (@dxbmediaoffice)
Starting June 1, passengers flying Emirates Airline to select cities will be able to book the all-new economy premium seats.
The new cabin class, which offers luxurious seats, more legroom and exclusive check-in service will be available to Emirates passengers travelling on popular A380 routes to London, Paris, Sydney from August 1, and Christchurch from December.
Sir Tim Clark, President of Emirates Airline, highlighted how economy class passengers will be treated to a "signature experience unmatched in the industry".
Since its introduction in January 2021, the premium economy seats have garnered a lot of demand.
Currently, six A380s are equipped with this cabin class, with plans underway to install Premium Economy on 67 A380s and 53 Boeing 777s to begin in November.
"At the end of the programme, Emirates will have 126 aircraft fitted out with Premium Economy cabins, as well as our latest interiors across other cabins. It is a major investment to ensure our customers continue to have the best experience in the sky," Sir Tim Clarke added.
On a four-class Emirates A380, the Premium Economy cabin is located at the front of the main deck with 56 seats laid out in 2-4-2 configuration. On the Emirates Boeing 777, up to 24 Premium Economy seats will be installed in a dedicated cabin section between Business and Economy.
.@emirates launches full Premium Economy Experience and announces it will open this highly sought-after cabin for sale from 1 June 2022. https://t.co/QseRq9zDaL pic.twitter.com/WzyjuWVwnA

— Dubai Media Office (@DXBMediaOffice) May 9, 2022
The airline will also feature its Boeing 777-300ER First Class fully enclosed private suite at this year's Arabian Travel Market, as well as their Boeing 777 Business Class seat, the newest generation A380 Onboard Lounge, alongside other products such the First Class Shower Spa and new economy class seats.