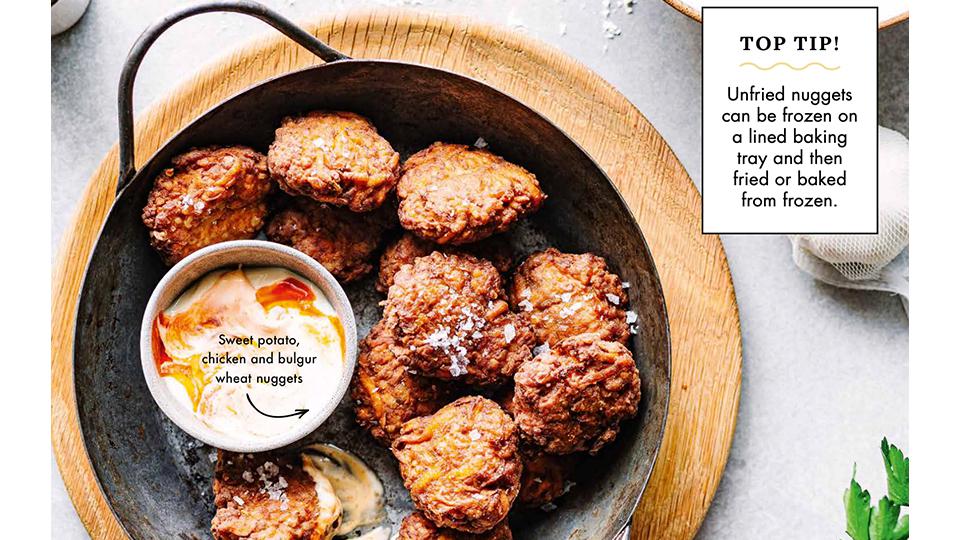 Prep time: 15 minutes
Cook time: 30 minutes
Serves: 6
For the nuggets
250g SpinneysFOOD Beauregard Sweet Potatoes
1 garlic clove
50g bulgur wheat
90ml water
450g SpinneysFOOD Everyday Chicken Mince
1 tbsp SpinneysFOOD Crushed Chilli
1 tsp onion powder
1 tsp smoked paprika
1 tsp salt
1 large egg
2L Spinneys FOOD Pure Sunflower Oil
100g cake flour

Process
1 Grate the sweet potatoes and garlic.
2 Cook the bulgur wheat by placing it in a saucepan with the water. Bring to a simmer, then cover and cook over a low heat until tender – approx. 5 minutes.
3 Remove from the heat and allow to stand, covered, for 10 minutes. Fluff with a fork.
4 Place the grated sweet potato, bulgur, chicken mince, chilli flakes, onion powder, paprika, salt and whisked egg together in a large bowl and mix well.
5 Take tablespoonfuls of mixture and using your hands, form the nuggets into 2½cm-thick oval shapes.
6 Heat a large pot of vegetable oil to 180°C.
7 Place the cake flour in a large bowl, for coating.
8 Dip the nuggets in the flour and immediately drop them in the hot oil and fry in batches until golden and crisp – approx. 5 minutes. Repeat with the remaining nuggets.
9 Serve hot with any dipping sauce.