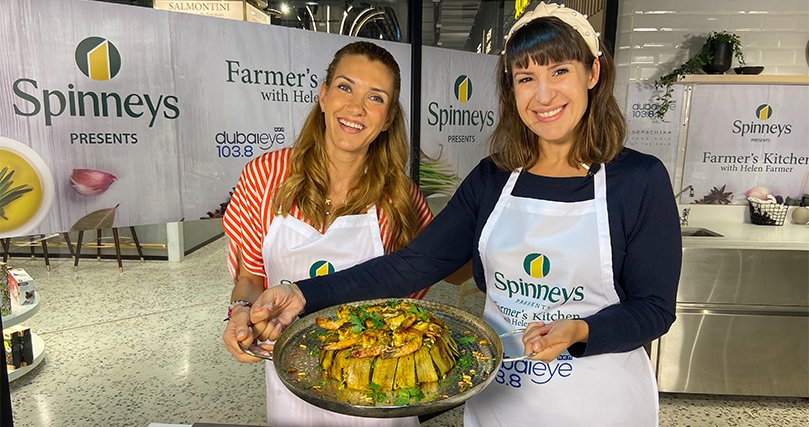 This week Helen is joined in the kitchen by Lama Jammal. She runs the kitchen that we cook in, the fabulous Mamalu Kitchen at Nakheel Mall.
Hairnets in place and aprons on, a group of about 20 women are hard at work in a cooking studio in Dubai. The atmosphere is relaxed, and laughter fills the air as they slice and chop. This is no run-of-the mill class, however, as these ladies are not learning to cook for themselves, but for their employers. At the helm of the operation is culinary aficionado Lama Jammal, founder of Mamalu Kitchen, who spends her time animatedly floating from station to station, training nannies and helpers to make home-cooked dishes, healthy snacks and children's school lunches.
On this week's episode we're using beautiful Spinneys ingredients to make a great dish to kick off Ramadan which is a layered Shrimp Makloube. Follow the recipe below...
INGREDIENTS
Chicken breasts 600 grams

Eggplants 1 large piece

Cauliflower 1 small head

Tomatoes (optional) 2 pieces

Potatoes (optional) 3 pieces

Basmati or Egyptian rice 2 cups

Organic vegetable stock cubes 1 cube

Onions 2 pieces

Almonds (without skin)

1/4 cup

Pine nuts 1/4 cup

Himalayan salt 1.5 tsp

7 spices 1.5 tsp

Cinnamon 1 tsp

Turmeric 1 tsp

Bayleaves 2 leaves

Cinnamon stick 1 stick

Saffron 2 strands

Odourless coconut oil 2.5 tbs

Nutmeg 1/2 tsp

Parsley garnish

Water 2.5 cups

Crushed black

Pepper 1/2 tsp
METHOD
1. Soak the rice for half an hour in water. Slice one onion, the eggplants, potatoes and tomatoes and cut the chicken breasts into cubes. Add salt to the eggplant and let rest. Break up the cauliflower into florets.
2. Fry the chicken breasts in 1 tbs coconut oil until golden. In another pan sauté the eggplants then the potatoes in a little coconut oil until golden and set aside. Sauté the sliced onion until golden and set aside. Sauté the cauliflower and set aside. Fry the almonds followed by the pine nuts and set aside.
3. Boil the chicken in 2 1/2 cups water and add the cinnamon stick, bay leaf, vegetable cube, nutmeg and 1/2 tsp all spice and one of the onions until cooked through. Remove the chicken and drain the water and set aside.
4. Drain the rice and add the turmeric, cinnamon powder, remaining all spice, saffron, salt and black pepper and mix.
5. Oil the bottom of a pan then line with the eggplants followed by the potatoes,tomatoes and cauliflower. Add the chicken pieces then the rice and flatten evenly.
6. Add the chicken broth gently until its 2cm lower then level of the rice. Cover and cook on low heat for 15-20 min or until rice is cooked.
7. Put a large plate on top of the pot and flip the pot over. Garnish the almonds and pinenuts and chopped parsley.